Internship Program
If you're thinking of getting into communications, marketing or business, we've got a couple great opportunities for you! Both positions will fully integrate you in our company
Support a team! Participate in regular meetings and offer your creativity and support while learning from some of the best in the biz (if we do say so ourselves!).
Get involved! Travel to client/producer meetings, events, and industry engagements with the team.
Own your Summer! Identify 1-2 projects that align with your skills and company goals and leave an impact.
Qualifications:

Go-get'em attitude.
Insatiable curiosity.
Passion for Serving Rural Montana / Wyoming/ Western Dakotas.

Additional:

Internships are paid and can be used for course credit.
Positions may be full or part-time.
Position is located at Company Headquarters at 600 1st North in Billings, MT.
1. Broadcasting Internship
Possible Activities:
Talk to Producers! Learn to ask good questions and to listen for the answers. Farmers and Ranchers have made the land work for them for centuries and they need ideas and encouragement so stay profitable and motivated.
Dig In! Learn how to search the news, social media and other resources for interesting trends that might help our area producers.
Talk on the Radio! We will help you develop your skills to accurately and professionally communicate about markets, ag news and information that impact farmers, ranchers, and agribusinesses.
Talk on TV! By the end of the internship, you'll confidently be able to deliver a statewide newscast.
Write it Out! Hone your writing skills in such a way to inform the reader and get your message heard. You'll learn to write and edit stories on northernag.net and for social media.
2. Marketing Internship
Possible Activities:
Get creative! Learn the basics of copywriting and be able to take a marketing analysis and turn it into compelling ad  copy.
Find your voice! Develop marketing materials and participate in client presentations with the team.
Figure it out! Put your research hat on and learn how to evaluate a new client's business, or industry.
Get social! Join us for networking events where you can talk to other industry professions about their careers and opportunities.
Be Brave! Identify potential clients and learn how to reach out and learn about their business.
For consideration, please submit your answers to the questions below along with your resume to Courtney Kibblewhite at ckibblewhite@Northernbroadcasting.com.
For additional questions, please call 406-252-6661 or stop by our office at 600 1st Ave. North, Billings, MT 59101.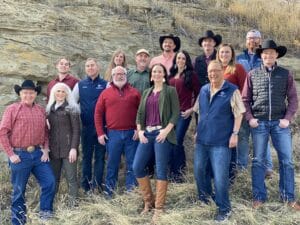 Application Questions:
Which internship are you interested in: Broadcasting, Marketing or Either?
Why are you interested in interning with Northern Ag Network?
Which skills are you hoping to put to work and develop during your internship?
Tell us an example of a project you have worked on where you exercised creativity?
Share an example of a project you have worked on where you served others?
What are your top 3 ideas for what you'd like to do after college right now?