Several Montana producers recently got the chance to visit Argentina to promote Montana beef genetics. Tim and Kris Todd, Bryan and Cathy Ratzburg and Kim Skinner spent several days in Argentina touring operations, attending cattle shows and visiting the largest cattle market in the country.
Argentina is over 6,500 miles away from Montana but Argentinian producers are looking for a lot of the same traits that Montana's top producers select for.
The Montana Department of Agriculture is a member of the United States Livestock Genetic Export, Inc. (USLGE) that provides federal funding to develop export markets for producers and those funds helped pay the way for these Angus seedstock producers to visit Argentina.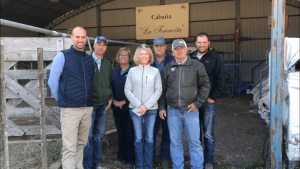 Above: Weston Merrill along with producers Kim Skinner, Tim and Kris Todd,  and Bryan and Cathy Ratzburg
Weston Merrill, Business Development Specialist for the Montana Department of Agriculture, joined the producers and organized the group. He says that Argentina is no stranger to Angus genetics, especially Montana's beef genetics, and are looking to improve on the product they have. "They are definitely in a time where they're ramping up their production and that makes our renewed presence very timely. They are excited and want to know more about what our Montana seedstock producers have to offer."
Tim Todd, Green Mountain Angus Ranch in Ryegate, Montana, said it was a great opportunity for he and his wife, Kris. "We met a lot of good breeders and saw a lot of good cattle. A lot of black and red Angus cattle. There is a lot of enthusiasm down there, it reminded me of Denver twenty or thirty years ago. They are trying to produce a moderate framed animal; they didn't pay a lot of attention to EPD's on marbling and yield."
Cathy Ratzburg, Bobcat Angus in Galata, Montana, said the biggest difference is in how they market their cattle. "They do not grade their carcasses, there's no grading system or any certified system like the states. They also have different levels of the registered industry. They have registered then they sell cattle that are between commercial and registered, that are registered bulls but they don't register them, those are sold to the commercial cattlemen."
Video: A brief glimpse of buyers walking the catwalk bidding on cattle. These cattle were brought in and shipped out in the same day.
Tim also mentioned the differences between their ranching practices compared to Montana's.
"We were down there in the winter season and it was still green. They have a lot of grass down there, the area we were at had 30-40 inches of rainfall, I mean the cattle were still out grazing. They don't have the winters like we do up here. They do put up some hay, some silage, corn and stuff like that but they don't have 5 months of winter feeding like we do."
As far as next steps, Cathy Ratzburg noted that the relationship is just going to take a little more cultivating, waiting for their government to open up some things before we can proceed.
Overall, the group had positive feelings and feedback on the trip and it sounds like more international trips for other producers will be coming in the near future.
###
Northern Ag Network
Photos/Video by Cathy Ratzburg, Kris Todd, and
Weston Merrill