(Helena, Mont.) – An experienced FFA Advisor and Ag Ed Teacher from Cascade has been named to head the Montana Ag Ed program at the Office of Public Instruction.
Eric Tilleman will take over from Shannon Boswell, who was recently promoted to the Interim Division Manager for all Career and Technical Education at OPI.
For the past 16 years, Tilleman has taught Agricultural Education at Cascade High School, home to one of the most successful Ag Ed and FFA programs in the state.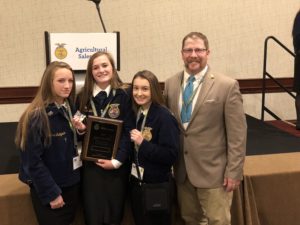 In leading Montana's high school Ag Education effort, Eric Tilleman will be responsible for helping high schools that want to start, or grow Ag Ed and FFA programs.
"This will be a fun career because you get to travel the state and visit with Ag teachers through out the state," Tilleman said. "I'll find out what their needs are and find ways to help them with curriculum or funding. And help to build the team Ag atmosphere!"
Above: Tilleman with Cascade FFA Students
Tilleman takes over at a time when Montana faces a serious need for skilled workers.  In recent years, the number of Montana High Schools that offer Ag Education classes has grown dramatically, to nearly 100 high schools across the state.  The number of FFA members has also grown to record numbers, both in Montana and nationwide.
###
Office of Public Instruction
Northern Ag Network- 2020