By Paul Dykstra – Certified Angus Beef – Director of Supply Management and Analysis
Carcass weights are always top of mind for us in spring as we try to keep buyers and sellers in the cattle and beef markets informed on quality carcass supplies and price implications. This heightened focus is a function of carcass weights tending to find their annual lows in May.
Moreover, through the pandemic fed-cattle backlog and the trailing effects of slower plant processing speeds, we've seen carcass weights reach new records. Expectations that the year-on-year increases in carcass weights would abate in early 2022 were not satisfied. In fact, weighted average steer/heifer carcasses in 2022 have only been lighter than 2021 in four individual weeks. So far, this year's weights have been 7 lb. heavier than 2021, 15 lb. heavier than 2020 and 38 lb. heavier than 2019.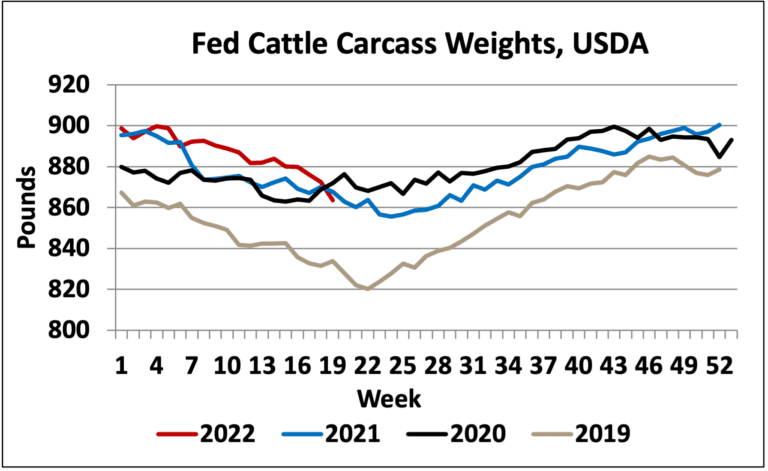 However, the latest data show an abrupt turnaround in the heavier annual carcass weights. March featured carcasses roughly 13 lb. heavier than a year ago, but since the week of April 18th carcasses quickly realigned the trend to reach 4 lb. lighter than a year ago in the second week of May. This latest week in the data indicates a 10-lb. one-week drop for heifers and a 7-lb. drop in steer weights.
This scenario reflects a culmination of several weeks of underperforming cattle in the northern feedlot region with respect to carcass quality grades. Feedyard placement data had suggested that market-ready cattle would be less numerous through April with a transition to larger supplies beginning to show up in June. May was logically the transition month, but so far it looks like the lighter weights and poorer grading in the past month portray a market that remains very current, at least in the north.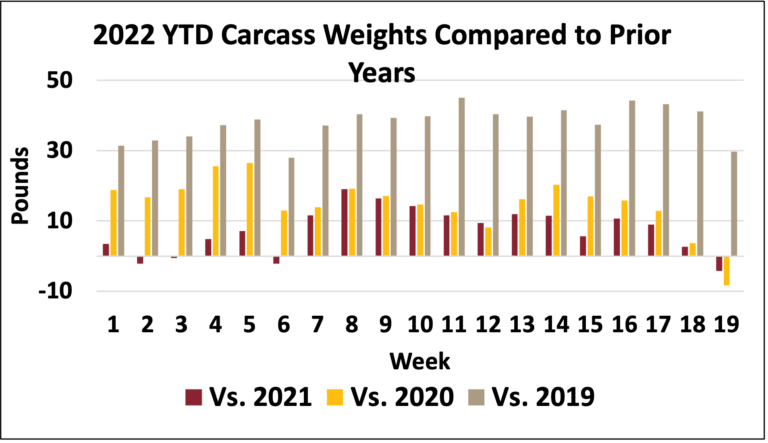 The bottom line for now: most recent slaughter data suggests carcass weights and market-ready cattle are not burdensome. This applies more as we look at the northern feeding region. As well, we're even more confident today that near-term quality grades will be challenged to keep up with the past two years. The elevated ration costs and continuing positive cash basis entering June only confound the issues. Although we've covered those factors in recent editions, it's timely to reiterate the facts: Carcass quality premiums widened last week and will likely continue to do so as they meet seasonal expectations, presenting premium opportunities for cattle that can surpass average quality.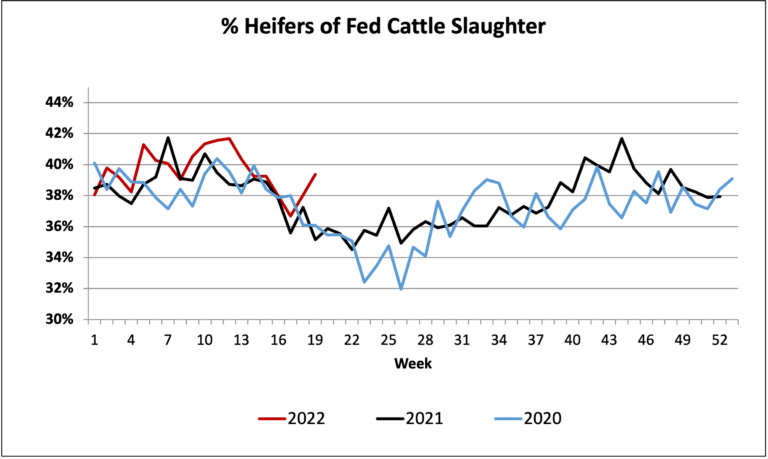 Heifers in the fed cattle slaughter surged to 39.4% of the total for the week of May 9th, a 1.4 percentage-point jump from the prior week. That's not unusual for other months, but it is uncharacteristic for early May. The last two years indicate heifers at an average of just 35.5% for the same week. The comparatively larger number of heifers in that week's 2022 data came with a 10-lb. decline in heifer carcass weights. That made for a greater-than-expected impact in pulling average carcass weights lower. Year to date, the heifer count is up 2.5% while steers are down 1.9% in the slaughter mix. That's just further indication of heifer liquidation rather than retention in the herd for breeding purposes.
###
CAB