FFA members from across the nation attended the National FFA Convention in Indianapolis. The big news from our region is Mamie Hertel of Moore, Montana being elected to serve on the National FFA Officer team. No small feat as each state sends its very best to compete for the 6 national offices.
It was an especially great accomplishment for Mamie as she is the first female national officer to be elected from Montana and only the 8th Montana member in history to hold a national office. Being selected as national officer this year, was particularly special as 2019 marked the 50th anniversary of the inclusion of women in to FFA. Mamie will spend the next year serving as the Central Region Vice President.
Upon hearing her name called as one of the national officers Mamie said, "When they called it, it just didn't feel real. But I'm elated to say the least."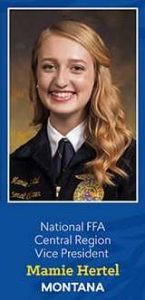 Hertel served as the Montana State FFA Secretary during the 2018-19 year and is currently a financial engineering major at Montana State University.
She said she looks forward to giving back to the organization that has given so much to her. "I'm thankful that FFA gave me an outlet to truly find my passions," says Hertel. "I learned so much in this blue jacket and so much in the ag classroom and I'm so thankful for that."
For her futures plans, Hertel says law school may be on the horizon. "I want to study agricultural law and hopefully one day be able to make an impact in policy or whatever it may be and really be a voice for agriculture," she says. "I come from a very small town, I graduated with 11 students. I want to be a voice not only for those 11 students or the 300 people that live in Moore, Montana but for every single person in Montana, as well as every single person in agriculture."
For the rest of the National FFA Officer team, Kolesen McCoy, an agribusiness and applied economics major at Ohio State, was elected national president. Kourtney Lehman, an agricultural business management major at Oregon State University, was elected national secretary. Lyle Logemann, an agricultural education major at Eastern New Mexico University, was elected western region vice president. Tess Seibel, a nursing major at James Madison University, was elected eastern region vice president. Yomar Roman, an office administration major at Universidad de Puerto Rico, was elected southern region vice president.
It was a great convention for a lot of FFA members from Northern Ag Network country. Winning the National Farm and Agribusiness Management contest was Wyoming's Wheatland FFA chapter. The team consisted of Cali Moody, Todd Paisley, Kobey Preuit and Danielle Brow. Moody and Paisley placed 4th and 5th overall as individuals and Kalispell, Montana FFA member Cole Dykhuizen placed 2nd overall.
In the Prepared Public Speaking event, Jonah Zeimens of Cheyenne Frontier FFA, placed 2nd. Hobson FFA member Claire Stevenson placed 4th in the Employment Skills contest. In the Horse Evaluation competition Rapid City FFA placed 4th overall and Torrington-Lingle FFA came in 7th.