(Billings, Mont.) – In front of the Parts Counter at Torgerson's in Billings on Tuesday, gubernatorial candidate Tim Fox and his running mate, former state representative and John Deere corporate officer, Jon Knokey, announced the first pillar of "Montana United: A Strategic Vision for the Future".
The first piece of this policy blueprint is a comprehensive outline of the team's Agriculture Policy, which they say will strengthen the state's Number One industry, enhance resource stewardship, and foster economic prosperity for Montana.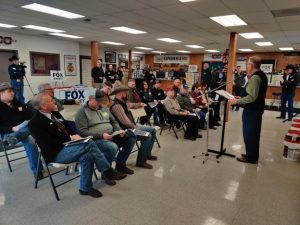 Several dozen farmers, ranchers and agri-business leaders gathered in the showroom at the Torgerson's ag equipment dealership to hear the Ag Policy announcement, which addressed 20 specific strategy points, such as:
Protect Montana's Water Resources
Increase High School Ag Education and FFA support
Support Investment in applied Ag Research and Extension
Advocate for International Trade
Defend Private Property Rights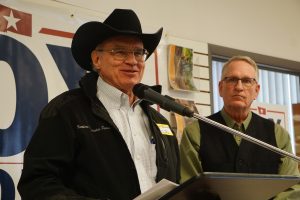 Former state senator and owner of the Northern Ag Network, Taylor Brown, was one of over two dozen ag leaders who participated in the creation of the Montana United Agriculture Policy.  "It's refreshing to see this kind of attention and detail focused on agriculture," Brown said. "Tim and Jon understand the importance and have an excellent vision for a strong ag strategy. It's significant that agriculture is the first part of Montana United to be presented, and I'm honored to have had the opportunity to work with Tim in crafting this important plan for the industry's future."
"The future of Montana ag is strong, but we must invest in new technologies to enhance production," Jon Knokey said at a recent FFA event. "Montana's ag industry is engrained in our state's heritage, and this industry that literally helped build our state deserves an advocate in the governor's office. That's exactly what Tim and I will do."
Over the next several months, the Fox campaign says they plan to release a series of whitepapers to outline their Montana United vision for key pillars like of Montana United including Public Safety, Healthcare, Outdoors, Education, Tourism, Workforce Needs and more.
After the announcement, Northern Ag Network caught up with Tim Fox to ask him what these ag objectives mean for Montana's farmers and ranchers.
If you'd like to listen to the full press conference featuring Tim Fox, Jon Knokey, and Taylor Brown, click here.
Tim Fox says this strategic conversation with Montanans is a work in progress, a beginning point for Montanans to submit constructive comments and ideas.  "Any eventual programs, policies or positions in the Fox/Knokey administration will be the product of the ideas, comments, and thoughtful criticism of engaged Montanans who participate in a civil discourse for the betterment of the state of Montana," said Fox.  "The Fox/Knokey Team welcomes your comments and ideas which can be submitted at FoxForGovernor.com/Strategy."
Read the full ag strategy paper here.
###
Northern Ag Network – 2020