Check out the impressive video made by 17-year-old Riley Slivka documenting the harvest on his family's farm.  This year he drove a semi truck full time during harvest, according to his mom, Erin, but despite being busy, he managed to take the time to capture some amazing footage.  Agriculture needs more talented youths like Riley who can tell the story of agriculture in a way the consumer is willing to watch and listen.  
Each year, Slivka Grain & Ag with the help of L. Petersen Farms custom harvesting crew are faced with the task of harvesting wheat and barley, some of which is against 1,000 foot cliffs, to help deliver food to your table.
A little about the videographer from Riley's mom:  Riley is a senior at Winifred High School. He has been making videos promoting agriculture since he was 12. His YouTube channel is called Imagistudios if you want to see more of his work. He does freelance videography to finance his equipment, and he just bought a drone this summer. He also works on the ranch, of course. He sold eggs from his chickens for years until he was old enough to drive. He has run combine and this year was a full time semi truck driver for our harvest. He is planning to major in ag communications and film next year. Last spring he placed ninth in the nation in the BPA digital media competition in Anaheim.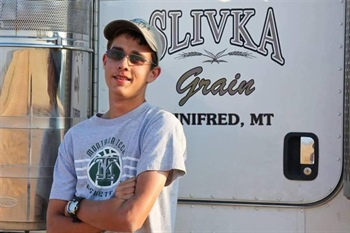 We are certainly looking forward to seeing more videos from this talented young man.  Hats off to Riley for the impressive agavocy!
Northern Ag Network 2015