As the smoke continues to fade with the fall leaves, producers across Montana are forced to make tough decisions, after wildfires scorched pastures and left hay stacks in smoldering piles. Along with winter stockpiles now in ashes, perimeter fences used to contain livestock are laying on the ground.
This comes during a year filled with uncertainty and huge price swings for some producers. To say Montana's number one industry could use as much help as possible is an understatement. Luckily, a group of local ranchers and community leaders have stepped up for those hurt in this year's Bridger Foothill's fire.
As of yesterday, over 8,200 acres had fallen victim to the blaze that could be seen from the town of Bozeman and stretched nearly to the Bridger Bowl ski area. Approximately 7,000 of those acres were lost in the first 24 hours, claiming over 20 structures and dozens of agricultural commodities including livestock and feed sources.
Some of those commodities will be covered under insurance but products like fencing and hay supplies are a different story. That is why Holley Woosley Vennes and her friends decided to organize Hay Days.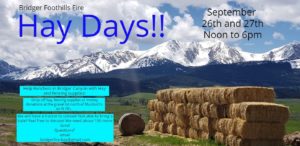 The two day event will take place Saturday September 26th and Sunday September 27th at the Bozeman Murdoch's. Those who are able to help are asked to drop off hay, fencing supplies or monetary donations at the gravel lot on the north side of the 7th street Murdoch's location.
Vennes told Northern Ag Network they run cattle just north of the fire line but she wanted to help out since the blaze was only a couple of miles away from them, and she knows her neighbors would have lent a helping hand if the fire had engulfed their land as well.
She also mentioned any bit of hay helps, so if a producer wants to throw on a single big square bale when they come to town or a couple of small squares, "it will help reach our goal." Vennes added, "fencing supplies will be in high demand," and they will be accepting any supplies.
For further questions, email bridgerfire.hay@gmail.com
####
Northern Ag Network – 2020