Horse Sale Results
Cash Fed Cattle Market
Choice Fed Steers
+1 to 2
182 - 186
As of 9/15/23
Average: 184.04
Top: 186
Dressed Basis
+2 to 3
290 - 292
As of 9/15/23
Average: 291.84
Top: 293
Choice Boxed Beef Cutout
-1.50
303.82
81 Loads
Cash Hogs
| Cash Hogs - Daily Weighted Average | | |
| --- | --- | --- |
| Western Cornbelt | +0.62 | 79.27 |
| Iowa Lean Average | +0.09 | 79.63 |
Hard Red Winter Wheat Cash Price
Ordinary Protein
11%
12%
-2
Wed PM
-2
Wed PM
-2
Wed PM
South Central MT
5.80 - 6.16
5.96 - 6.26
6.05 - 6.33
Golden Triangle
6.02 - 6.28
6.12 - 6.36
6.19 - 6.40
Northeast MT
5.49 - 6.09
5.59 - 6.09
5.67 - 6.09
FOB Portland
-2
7.19 - 7.29
Wed PM
-2
7.39 - 7.49
Wed PM
-2
7.54 - 7.64
Wed PM
Dark Northern Spring Wheat Cash Prices
13% Protein
14%
15%
+4
Wed PM
+4
Wed PM
+4
Wed PM
South Central
MT
6.56 - 6.99
6.88 - 7.23
6.96 - 7.39
Golden Triangle
6.45 - 6.90
6.77 - 6.98
6.97 - 7.00
Northeast MT
6.09 - 6.82
6.53 - 6.98
6.53 - 7.25
FOB Portland
+4
8.05 - 8.27
Wed PM
+4
8.33 - 8.43
Wed PM

+4
8.33 - 8.51
Wed PM
Wheat / Durum / Barley Cash Prices
Soft White Wheat
Hard Amber Durum
Feed Barley
Steady
Wed PM
Steady
Wed PM
Steady
Wed PM
South Central MT
Golden Triangle
10.00
4.50
Northeast MT
9.75 - 10.50
FOB Portland
6.80 - 6.95
June 24th Billings Livestock Sale Results
Billings Livestock Commission had a great summer horse sale on June 24th in Billings. There was good weather, a big crowd and great previews. The one-day sale total was 583 head of horses sold with a mere 27 head of no sales. The sale proved that there is currently a strong market in all classes.
The selection included something for everyone as 98 horses brought from $1,500 to $4,000 with the top five averaging $11,540. The horse with the top sale honors had a $15,000 price tag. This horse was a four year old AQHA Gelding called "Chook". Chook was offered by Kruger Performance Horses.
For the loose head section 328 total horses sold and the top end of the weigh ups brought 45 cents. Once again the prospects ruled the market with 30 head bringing $1,000 or more. The top prospect horse topped the market with a $3,300 bid. We look for the processing market to remain fairly strong for the July 22nd event.
LOOSE HORSE AVERAGES:
TOP 5 – $2,150
TOP 10 – $1,855
TOP 20 – $1,642.50
TOP 50 – $1,224.50
TOP 100 – $928.20
TOTAL SALE AVERAGES:
TOP 5 – $11,540
TOP 10 – $9,530
TOP 20 – $7,720
TOP 50 – $5,574
TOP 100 – $4,125.50
TOP SELLING HORSE: $15,000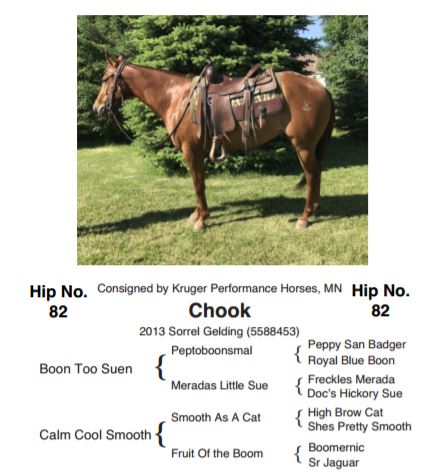 Billings Livestock Commission will hold their next horse sale on July 21 and July 22. To promote your consignment for free on northernag.net please submit a photo and/or video link and summary to operations@northernbroadcasting.com.