This past week Shannon and I took a personal trip through ten Counties in eastern Montana, and had the chance to visit with a lot of farmers and ranchers.  After a good season last year, severe drought has now come on very quickly, and it is causing major concern over a broad area.
At a family wedding north of Glendive we celebrated the marriage of Alex and Jasmin (Gentry) Winchell, and just about every producer that I talked to there told me that their dryland hay crop was going to be smaller than normal.  Most don't have much that they will even try to cut….unless you consider those who have already given up on their grain crop, and are starting to put that crop up for hay.
Ranchers in Jordan, at the exciting 48th Jordan Matched Bronc Ride told us that so far 2017 has been their driest year ever.  The year is almost half over, and Jordan has not yet accumulated a full inch of precipitation in total for 2017. Not only have they had an alarming number of months in a row without any measurable precipitation at all, but CLICK HERE to see the NRCS historical chart precipitation in Jordan since 1906.  You will see that this year so far is drier than any other in 111 years…including both the "Dirty Thirties", and the devastating 1980's.
In Glasgow the National Weather Service posted the graphic below on their web page, showing that June of 2017 has them tied for the driest June since 1900.  It is amazing to many people to see how fast things can change in Montana.  Last year Glasgow and much of the hi-line had an extremely wet year, but when you receive only 7 hundredths of an inch during a critical month like June, things can take a turn for the worse in a hurry.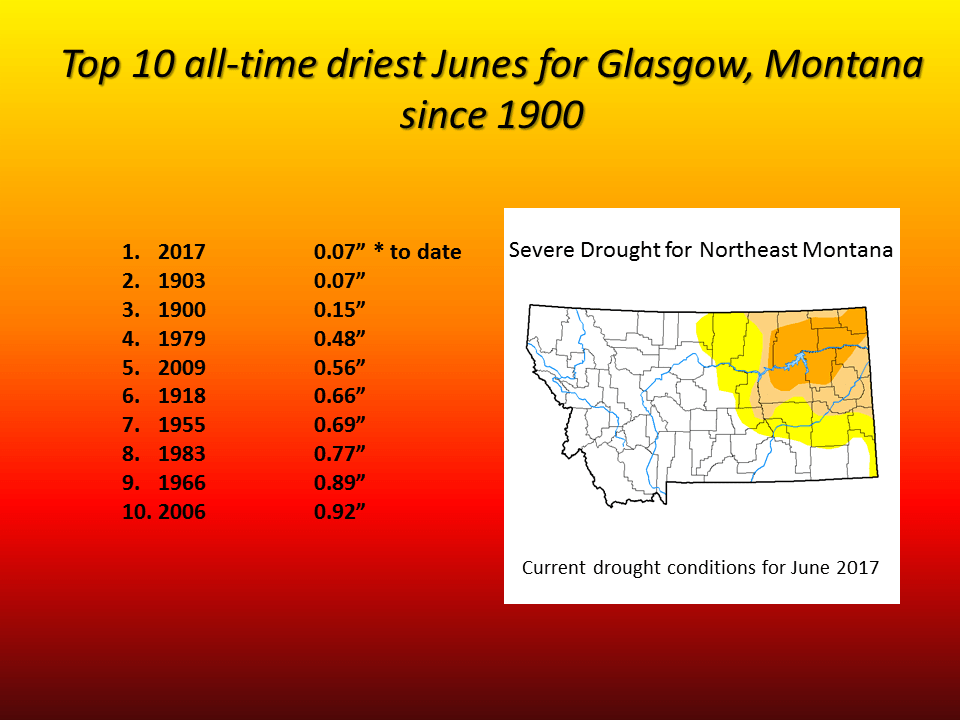 I did not travel through the central Dakotas this week, but if you take a look at the U.S. Drought Monitor, you can see that they are in a similar situation.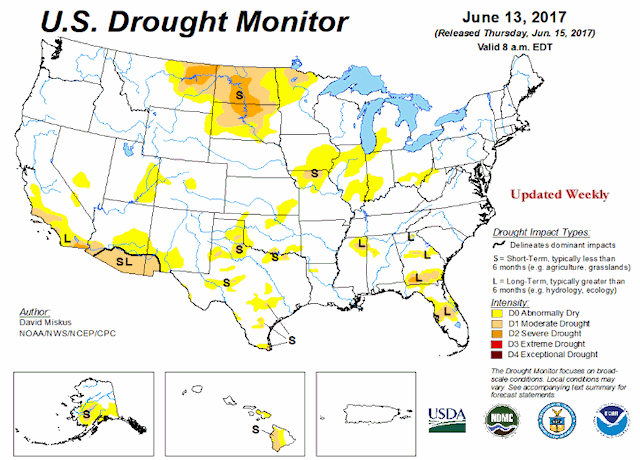 We don't want to over-sensationalize this situation, because things can change; but no matter what happens from this point forward, it is going to be a very difficult year for a lot of producers in our coverage area.
Submitted by Taylor Brown, Northern Ag Network
June 19, 2017