The University of Wyoming Extension and Wyoming Wool Initiative have partnered with the Wyoming Wool Growers Association to provide programming on the science, art, and practice of Wyoming sheep and wool production. UW Extension programs will be held in Kemmerer on Friday, June 30, and Saturday, July 1, at the inaugural Wyoming Sheep and Wool Festival.
Programs will take place at the South Lincoln Training & Events Center and the Kemmerer Downtown Triangle.
"There is truly something for everyone at the Wyoming Sheep and Wool Festival. Collaboration between UW Extension, Wyoming Wool Initiative, and the Wyoming Wool Growers Association will provide high-quality, interactive educational programming on Wyoming's storied sheep industry," says Whit Stewart, UW Extension sheep specialist.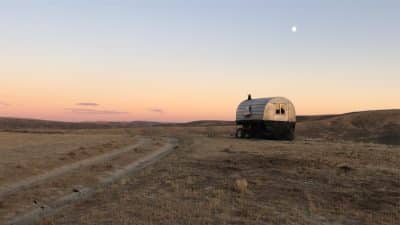 On Friday at 4 p.m., extension educator Barton Stam will discuss sheep grazing and its benefits in promoting ecological diversity and providing ecosystem services.
On Saturday at 10:30 a.m., UW meat scientists Warrie Means and Cody Gifford will present various lamb cuts and preparation options. Participants will also enjoy some savory samples. This program is a must for those interested in direct marketing of lamb and those wanting to expand their menus.
In the afternoon, Stewart and John Kane, a third-generation livestock dealer from Madison, Wis., will provide insights on non-traditional market channels. The session will conclude with a Q&A panel discussion with Stewart, Kane, and other regional experts.
Stewart and UW sheep program students will also host a wool learning kiosk and handspinning fleece auction at the Kemmerer Triangle. Interactive displays will allow festival attendees to learn more about the unique, eco-friendly qualities of wool fiber.
Participants will also have the opportunity to bid on high-quality fleeces in the silent auction. For information on buying or consigning fleeces to the auction, contact Lindsay Conley-Stewart at lstewar9@uwyo.edu.
UW Extension programing will conclude with the Sheepherders Come Bye, an annual celebration of Wyoming's sheep industry sponsored by Wyoming Wool Initiative. A lamb dinner and awards ceremony for Wyoming wool growers and sheep producers begins at 6 p.m., followed by live music and dancing.
Tickets for the lamb dinner can be purchased at https://bit.ly/come-by-2023. All other extension programming is free and open to the public.
More information about the festival can be found at wyomingsheepandwoolfestival.com.
###
UW Extension