Another very strong youth livestock sale this weekend at MontanaFair in Billings. There was an impressive turnout of buyers at the sale and folks bidding online too.
The Patrick K. Goggins Junior Livestock Sale at MontanaFair set an average sales price record at the sale that looked pretty different than previous years.  The sale was held in the First Interstate Arena for the first time ever and also for the first-time buyers were able to bid online through Northern Livestock Video. 192 animals were sold in the 4 ½ hour auction, sponsored by the Western Ag Reporter. Achieving an average sale price of $2,668 per animal, the 2020 sale topped the previous record of $2,632 in 2018.
With 75 hogs sold this year, they brought a record average of $5.97 per pound and the goats set a record average as well at $12.36 per pound. Steers and lambs didn't break any records but still posted strong results with 64 steers averaging $3.83 per pound and 27 lambs averaged $8.21. The Grand Champion turkey kicked off the event selling for $850 and the top rabbit brought $1,100!
Roni Baker, Yellowstone County 4-H agent said, "First Interstate Arena is a terrific venue for our event and to break a record in 2020 is incredible.  We would love to have the sale in the arena every year."
Over a half million dollars in total was spent on animals during this years' sale.  This celebrates the fourth time in the past five years the Patrick K. Goggins Junior Livestock Sale has broken the half million-dollar mark.
"I saw at lots of happy faces when I looked up from the sales platform, "said MontanaFair General Manager Bill Dutcher. "Credit to 4-H for finding a way to get the sale done safely."
Many thanks to those businesses and individuals who continue to support local youth by digging deep and buying Market Animals at their local fairs across the region!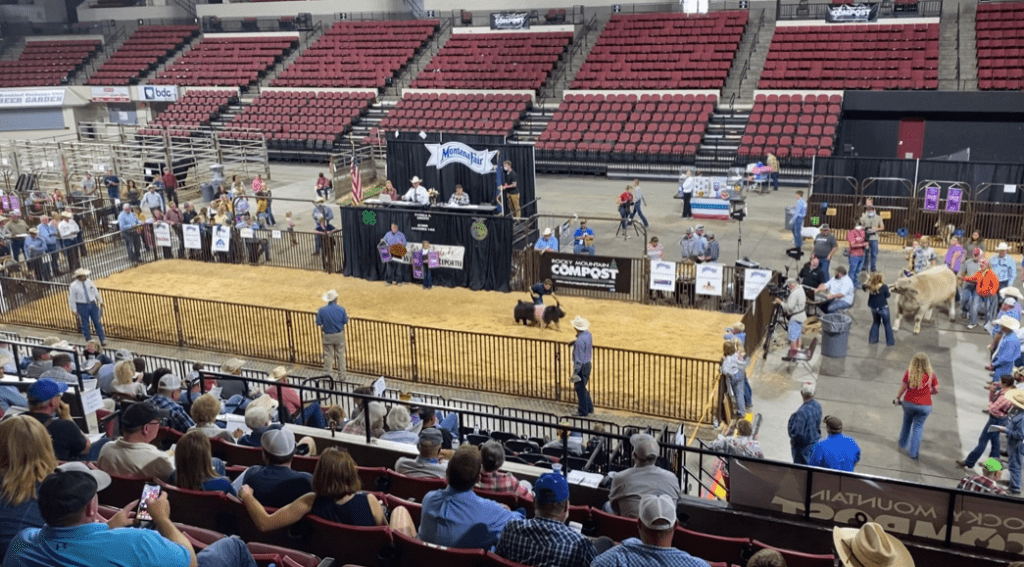 ###
MontanaFair/Northern Ag Network/KGHL Radio