Drought continues to plague much of the Western United States and conditions in the Southern plains are worsening. Deteriorating range and pasture conditions are forcing producers to place more lambs on feed, which are at levels that have not been seen since 2018.
Since the start of the year, monthly lambs on feed have been running about 40,000 to 68,000 head above year ago levels. Weekly yearling lamb slaughter is averaging about 31,000 head or about 2 percent below last year following the Easter holiday season. Elevated lambs on feed and lower slaughter levels have led to a counter-seasonal increase in yearling lamb dressed weights, which have averaged nearly 70 pounds since the first week of May or 11 percent above the same period in 2021. Higher dressed weights have partially offset the lower slaughter levels, but year-to-date weekly lamb production through mid-July is down 7 percent from a year earlier.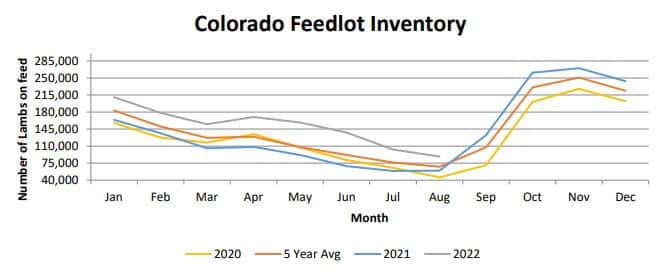 At the start of 2022, feeder lamb prices – three-market average: Colo., Texas and S.D. – reached historic levels with a peak of $376.25 per cwt. in mid-January. Since then, those high prices have steadily tracked lower with recent weeks falling below the prior year's levels. About a year ago, slaughter lamb prices – national negotiated live – reached the historic high of $268.34 per cwt. Prices have moved lower since that point, with the last two weeks falling below $180 per cwt.
Current prices – when compared to the record highs set a year ago – have fallen about $90 per cwt. Compared to the five-year average of about $150, prices are still above typical levels. The first week of August last year saw the lamb cutout reach a record level of $639 per cwt. Last week, the lamb cutout value was $537 per cwt., which is nearly $100 lower and since the start of the year the cutout value has fallen about 11 percent or $70. The five-year average lamb cutout value halfway through the year is typically about $350 per cwt. Although the current value is lower than a year ago, it is still historically high.
The Livestock Marketing Information Center is expecting commercial sheep and lamb slaughter to decline about 6 percent this year. A forecast 2-percent increase in weights will partially offset the decline in slaughter numbers, leading to about a 4-percent decrease in lamb production.
Ample lambs on feed are expected to pressure feeder lamb prices for the second half of the year with a forecasted decrease of 12 to 25 percent. Slaughter lamb prices seasonally move lower during the second half of the year and prices are expected to be about 2 to 4 percent lower than 2021. The lamb cutout value continues to remain well above typical levels despite demand uncertainties and economic recession.
###
Livestock Marketing Information Center