Bozeman – 1350 members and guests attended Montana FFA's 92nd Annual State Convention March 30th – April 2nd on the MSU campus in Bozeman, Montana. This year's convention was highlighted by in person greetings from Governor Greg Gianforte and Sen. Steve Daines. The Montana FFA Convention hosted numerous career development events, general sessions and workshops during the four-day event. Each winning team earned the opportunity to compete at the National FFA Convention which will take place this fall in Indianapolis, IN.
After an emotional set of retiring addresses from last year's previous state officers a new slate of individuals were selected to represent the statewide Montana FFA association for the 2022-2023 year.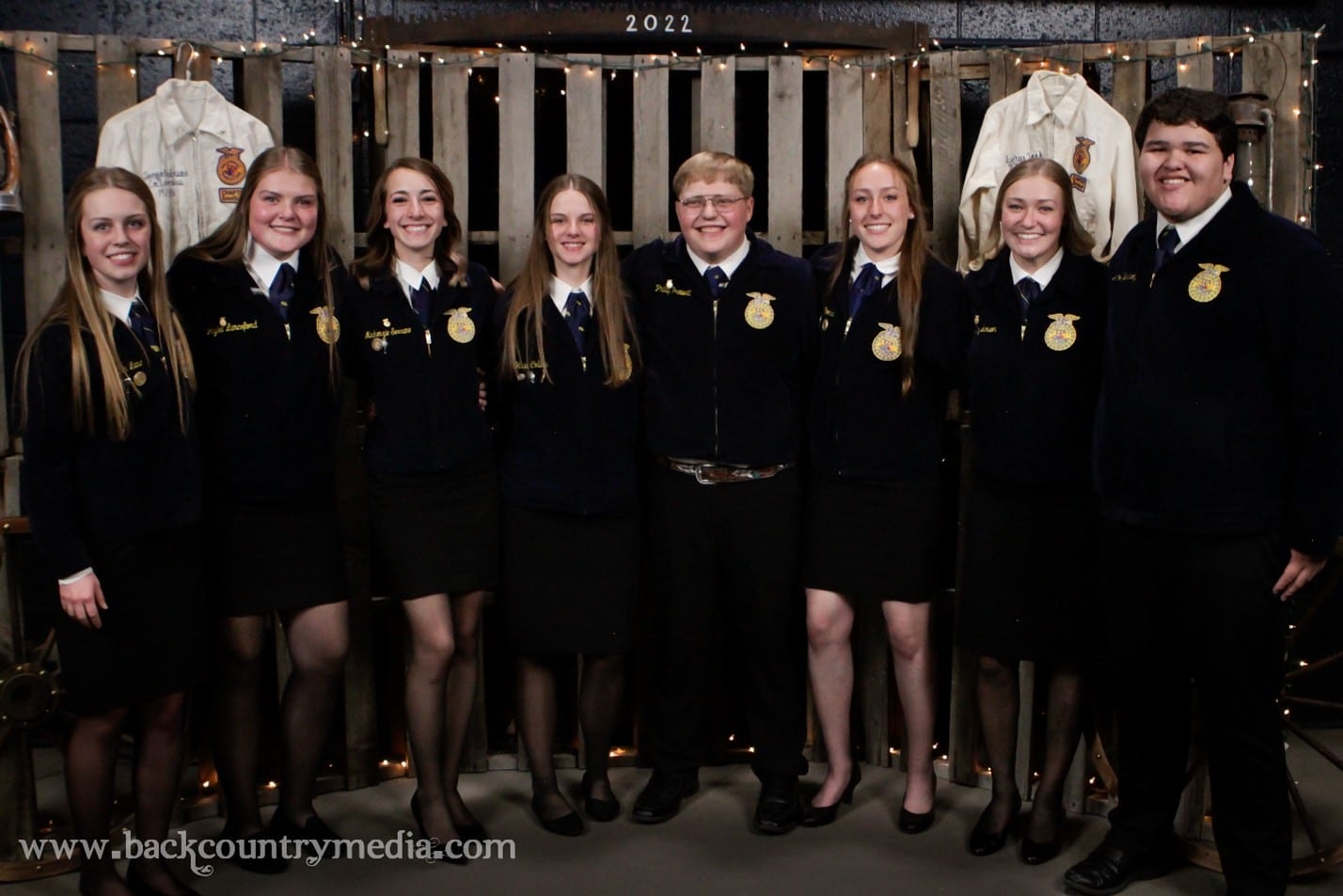 The new state officers for the 2022-23 year. They are as follows (L to R):
Brighton Lane – President from Huntley Project, Jaylea Lunceford – Secretary from Ronan, Mackenzie Serrano – Reporter from Roundup, Olivia Collins – 1st Vice-President from Joliet, Phillip Prewett – 2nd Vice-President from Park City, Kyelynn Coombe – Sentinel from Joliet, Riley Larson – Treasurer from Conrad and Anthony Hernandez – Parliamentarian from Lodge Grass.
New foundation staff was also selected at the convention. Kelsey Kraft is the new director of operations and Morgan Kountz will serve as the director of development for the Montana FFA Foundation.
Career Development Event Results are as follows (individuals followed by teams):
Agricultural Sales CDE:
Lance Rutledge – Big Sandy
Cole Taylor – Opheim
Gus Turner – Missoula
Nik Pierson – Park
Phillip Prewett – Park City
Isaac Cantlon – Mission Valley
Ryleigh Plovanic – Beaverhead
Kamryn Jones – Stevensville
Morgan Dawson – Gardiner
Addie Shephard – Kalispell
Team:
Gardiner
Wheatland (Harlowton)
Missoula
Kalispell
Opheim
Agronomy CDE:
Ethan Bay – Kalispell
Thaddeus Miller – Joliet
Jesse Isaacs – Miles City
Gus Turner – Missoula
Kayla Haigh – Stevensville
Jenny Harris – Joliet
Wyatt Isaacs – Miles City
Shaun Billingsley – Missoula
Maya Roginske – Joliet
Team:
Joliet
Kalispell
Stevensville
Miles City
Missoula
Agricultural Technology and Mechanical Systems CDE (mechanics):
Guildy Browning – Big Timber
Jake Chulyak – Big Timber
Jack Gibson – Beaverhead
Kole Hill – Ruby Valley
Kolby Lechner – Huntley Project
Cameron Seymour – Kalispell
Kaiden Batzler – Ruby Valley
Isaac Cantlon – Mission Valley
Avery Durfee – Big Timber
Colter Cornwell – Mission Valley
Team:
Big Timber
Kalispell
Mission Valley
Huntley Project
Beaverhead
Agriscience Fair:
Overall winners in each area:
Animal Systems: Faith Berou and Kara Conley – Missoula
Power and Technology Systems: Matthias Reifer – Simms
Environmental Sciences and Natural Resources: Emily Barcus – Corvallis
Plant Systems: Theodore Van Deren – Beaverhead
Food Products and Processing Systems: Brogen Zumbrun and Ayden Estes – Simms
Creed Speaking CDE:
Brylinn Olstad – Shepherd
Colton Harris – Stevensville
Ian McKamey – Cascade
Cole Waldusky – Conrad
Jr. Creed Speaking CDE:
Riley Jones – Miles City
Addy Webb – Park City
Joel Standley – Missoula
Macy Witt – Park City
Extemporaneous Speaking CDE:
Claire Murnin – Shepherd
Layne Johnson – Plentywood
Hannah Fussell – Mission Valley
Breanna Blaine – Joliet
Farm Business Management CDE:
Ethan Bay – Kalispell
Evan Heupel – Kalispell
Rudy Kummer – Bainville
Cole Taylor – Opheim
Kailey Brimmer – Miles City
Jake Chulyak – Big Timber
Colter Fleming – Big Timber
Wyatt Iverson – Miles City
Braeden Romo – Bainville
Robert Knotts – Lambert
Team:
Kalispell
Bainville
Miles City
Big Timber
Belgrade
Livestock Judging CDE: .
Shaun Billingsley – Missoula
David Hathaway – Big Timber
Tyeson Gravenhof – Roundup
Gracie Orem – Nelson Online Ag
Hannah Fussell – Mission Valley
Chloe Tudor – Plevna
Sydney Wolsky – Corvallis
Lilli Meigs – Missoula
Sydney Kostecky – Stevensville
Ashton Deegan – Hobson
Team:
Big Timber
Missoula
Corvallis
Mission Valley
Hobson
Parliamentary Procedure CDE:
Shepherd
Kalispell
Cascade
Broadwater
Prepared Public Speaking CDE:
Brighton Lane – Huntley Project
Gus Turner – Missoula
Conduct of Meetings CDE:
Joliet
Shepherd
Corvallis
Miles City
Montana FFA makes a positive difference in the lives of students by developing their potential for premier leadership, personal growth and career success through agricultural education. For more information, please contact the Montana FFA Association for upcoming events and ways to get involved.
###
Adapted from MT FFA Press Release