GREAT FALLS – The Montana Symbol of Excellence (SOE ) program annually recognizes both 4-H and FFA youth and hog breeders who raise market hogs that meet carcass merit standards and who demonstrate a commitment to excellence in producing quality pork products. The SOE program was created through a partnership between Montana Pork Producers Council (MPPC) and MSU Extension before the Pork Act of 1985. MPPC with MSU Extension Swine Specialists Wayne Gipp and Walt Neuman developed the SOE program to highlight the hard work of both youth and hog breeders that continues today.
Carcass and ultrasound data were collected on 1553 hogs from across the state of Montana with 21% qualifying to be SOE hogs in 2020. These hogs were shown by 4-H and FFA youth who committed to the market swine project from beginning to end. The SOE standards are based upon live weight, hot carcass weight, back fat, loin area, marbling, color, wetness, muscle, and firmness.
John Rauser, MPPC President and Montana hog producer has overseen the program for many years. "The SOE Program is unique to Montana. The vision of SOE as a carcass quality program is to help producers improve their hog carcass quality while educating youth through 4-H. As a hog farmer, I strive to produce a market hog that grows quickly, yields a good carcass, meets standards set by the SOE program, and tastes good. I commend our youth and my fellow pork producers who participate in the SOE program for all of their hard work and the commitment to make this program successful for so many years and many years to come."
The 2020 top hogs are listed below:
Youth exhibitors and hog breeders in the light carcass division are: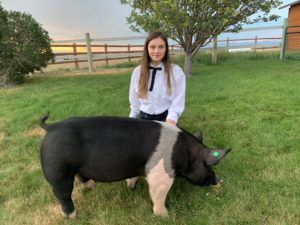 Aspen Longie, Beaverhead County (Coco Cervantes, hog breeder). (Pictured top and left)
Zachary Bates, Gallatin County (Braaten Show Pigs, hog breeder).
Cami Blevins, Marias Fair (Pugsley Show Pigs, hog breeder).
Juston West, Missoula County (Bip Bagnell, hog breeder).
Julia Vanek, Chouteau County (Twin Hills Colony, hog breeder).
Youth exhibitors and hog breeders in the heavy carcass division are:
Bridgett Madruga, Ravalli County (Missoula County Public School Ag Center, hog breeder).
Gretchen Ludemann, Missoula County (Hudson Family Show Pigs, hog breeder).
Colter Short, Ravalli County (Miotke Show Pigs, hog breeder).
Leyton Arnold, Gallatin County (Madd Show Pigs, hog breeder).
Joshua Rammell, Teton County (Shanun Rammell, hog breeder).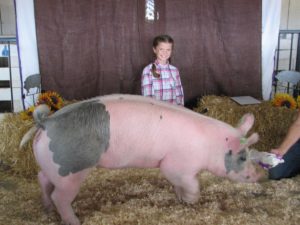 Above: Montana SOE Heavy Carcass Winner Bridgett Madruga.
Youth exhibitors and hog breeders in the ultrasound division are: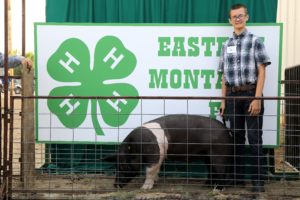 Colton Kamis, Custer County (Deaton Show Pigs, hog breeders). (Pictured right)
Heidi Phalen, Custer County (Germann Brothers, hog breeder).
Abby Hecker, Wibaux County (Nelson's Wild Show Pigs, hog breeder).
Paysen Bice, Custer County (Randy Wirt, hog breeder).
Quade Boggio, Carbon County (Craig Erickson, hog breeder).
Contact Rose Malisani with MSU Cascade County Extension at (406) 454-6980 for more information regarding the Montana SOE program.
###
MSU Cascade County Extension