Wheat and barley are two of the most economically important crops produced in Montana. So, the Montana Wheat and Barley Committee Commissions a survey of farmers each year to looking at the production decisions farmers make. The Montana State University Ag Economics Department conducts the survey to collect data that helps quantify farmers' planting choices and how those decisions change over time.
The survey looked at a wide variety of choices that farmers make in raising small grains under the big sky. First off, the survey asked farmers what varieties of wheat and barley they seeded in 2019. Below are the results for the varieties that producers raised.

Farmers were also asked about what factors made the biggest difference in making the decision to use a particular seed variety. Overall yield potential and protein content potential were the top two factors that producers considered the most important. Next they looked at past experience, disease and pest resistance, and market factors.
The survey also looked at crop acres that are being transition to organic production. Farmers were asked "How many acres did you transition to organic crop production in the last five years?". In total, respondents reported transitioning a total of 20,673 acres to organic during that time period. The top reasons given for transitioning to organic production was price or profitability.
24% of farmers in the survey reported making a major crop rotation change in the last year. Market prices was the most prevalent reason listed for making the change, followed by production conditions and disease and pest management.
Lastly, farmers were asked about the financial health of their operation and their outlook for the next year. Compared to a year ago, 54 percent of Montana farmers say their operation is worse off financially. 42 percent said things are roughly the same, while just 4 percent said they are better off.
Producers weren't much more optimistic about the future at the time of the survey. When asked their opinion on the profitability of farming in Montana over the next 12 months, only 10 percent said it would improve. Over half expect profitability to diminish in the next year, while 38 percent are projecting profitability to remain the same.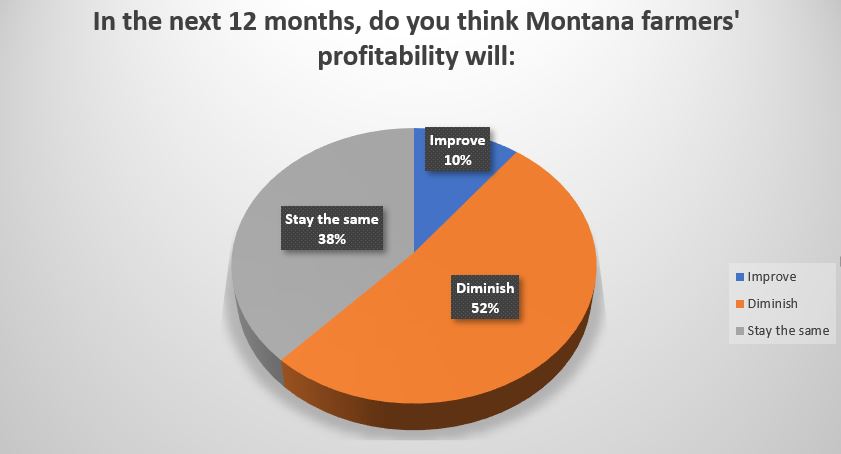 For a more detailed summary of the study, view the full report here.
###
MSU Ag Econ Dept.