Buffalo native Ben Hostetler didn't set out to become a leader in the wool industry. Mountain Meadow Wool, a regional mill and wool-processing facility, was his mother's dream.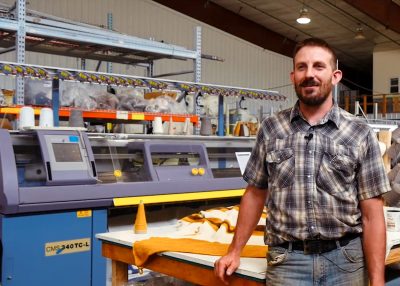 Nonetheless, he quickly and enthusiastically jumped into the family business when the opportunity arose. "I would call myself a transplant," he says. "Other than doing 4-H growing up, getting into wool was by chance."
Hostetler may have gotten into the business by chance, but the mill's success is no coincidence. Not only has Hostetler helped cultivate a thriving family business, he has also developed innovative partnerships with outside organizations, including the University of Wyoming's sheep program and Wyoming Wool Initiative.
"It's not hyperbole when we say that Mountain Meadow Wool is an unofficial satellite campus and laboratory in our educational and outreach efforts," writes nominator Lindsay Conley-Stewart, Wyoming Wool Initiative coordinator.
In recognition of the company's efforts to support UW students, the UW College of Agriculture, Life Sciences and Natural Resources has named Mountain Meadow Wool recipient of it 2023 Outstanding Corporate Partner Award. The award will be presented at the annual dean's banquet in Laramie Thursday, October 5.
Engineering solutions
An engineer by training, Hostetler brings a unique approach to the wool-processing business. Both his technical expertise and problem-solving mindset have proved integral to developing new processes, products, and partnerships.
Hostetler was still in college when his mother and her business partner, Valerie Spanos, opened Mountain Meadow Wool in 2007. A knitter and hand-spinner, Karen Hostetler had spent years researching and investigating the feasibility of opening a regional mill.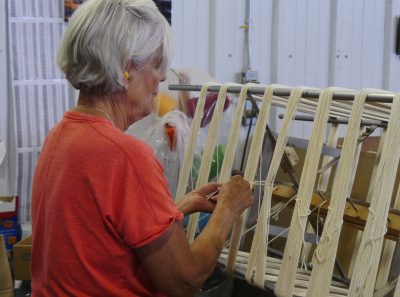 "She started with the idea that we have this great history with wool in Wyoming, but you couldn't find local wool, there was not a supply chain," says her son. "It's a great product, but there was no traceability back to the ranches—it just went to a big supply chain, which often meant overseas."
Hostetler found creative ways to connect his engineering coursework to Mountain Meadow Wool. While completing a graduate program, he developed a wastewater management system for the mill, which included a custom scouring line used to clean raw wool. It took several years of research, but he successfully created a sustainable system that recycles wastewater and delivers a consistent, commercial-quality product at a smaller scale.
In addition to cleaning and processing raw wool, Mountain Meadow produces yarn and an array of finished goods. "We're pretty unique globally in that you can see raw wool come in one side and finished product out the other side," Hostetler notes. "There's nothing at our scale that processes wool at this quality at our throughput and capacity."
Today, the company sources wool from 10 local ranches and employs 26 Johnson County residents. It also supports UW research and outreach efforts.
In the six years that UW has partnered with Mountain Meadow Wool, the mill has hosted more than 200 undergraduate students and 130 sheep industry stakeholders as well as multiple UW-led research projects.
A public-private partnership
In 2021, Mountain Meadow Wool became a production partner as well as an educational resource.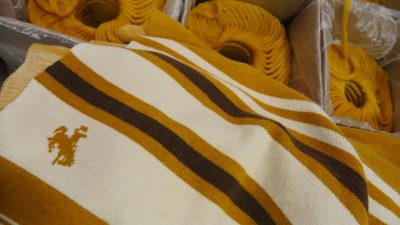 It started with a blanket. Three hundred blankets made of wool from the UW sheep flock in Laramie, to be more precise.
In a pilot project that eventually blossomed into Wyoming Wool Initiative, UW Extension Sheep Specialist Whit Stewart arranged for Mountain Meadow Wool to clean, process, dye, and spin the university's annual wool clip. Using a design Conley-Stewart created, Mountain Meadow Wool then used knitting machines to produce blankets made 100 percent in Wyoming.
Wyoming Wool Initiative, a nonprofit partially supported by the UW College of Ag, continues to collaborate extensively with Mountain Meadow Wool. "Both the mill and Wyoming Wool Initiative are passionate about teaching and outreach for the betterment of the Wyoming sheep industry," says Conley-Stewart. "One project will often spark an idea and lead to another project."
The limited-edition wool blankets, now produced annually, were later integrated into traceability research led by former graduate student Courtney Newman. Now an industrial engineer at Tyson, Newman credits Mountain Meadow Wool with much of her hands-on experience and practical knowledge in the wool industry.
"I have treasured all the time I have spent with Ben and Mountain Meadow Wool," says Newman. "They have always been so willing to share their knowledge and help with anything UW has needed over the years. They are a wonderful friend and partner of UW and Wyoming's sheep industry."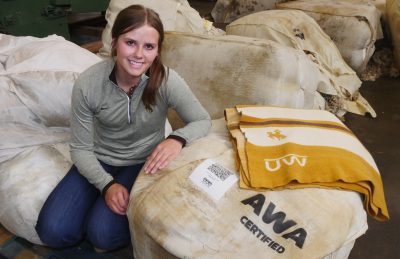 Supporting student research
In 2022, Newman used blockchain technology to document each step of blanket production, from sheep to finished product. It wouldn't have been possible without Mountain Meadow Wool, she says.
Blockchain is a digitized database that is shared and modified cryptographically, with the goal of improving product traceability and transparency. Mountain Meadow Wool, which integrates the concept of traceability into its daily operations, provided an ideal "sandbox" for testing the concept in the wool industry.
"Ben and his team provided us with the resources to be able to trial traceability through their regional wool mill," Newman explains. "We worked together to build a realistic traceability framework for U.S. wool, the first of its kind in the U.S."
For Hostetler, it was an opportunity to support university research valuable to the industry. Mountain Meadow Wool is already a leader in traceability, thanks to its innovative business model and longstanding relationships with local producers, but Hostetler recognized that the project could benefit the industry more broadly.
"Traceability was a good opportunity. As a company, we might not need assistance, but for the industry, it's very important," he comments.
Looking forward
UW continues to expand its partnership with Mountain Meadow Wool, forging ahead with new projects, including sock production and consulting for a first-stage processing feasibility study.
"What is so unique about Mountain Meadow Wool and UW's partnership is the grassroots commitment to developing people, Johnson County's economy, and sheep producers across the nation," says Conley-Stewart. "The collaborative synergies with Mountain Meadow Wool are a remarkable template for enhancing UW's land-grant mission and we foresee many more years of working with Ben and Mountain Meadow Wool."

Recently, the mill entered a lease-to-own agreement for a sock machine purchased by Wyoming Wool Initiative. Hostetler has dreamed of bringing sock production in house for years and his team is now experimenting and product testing with the new equipment.
For him, it's not just about profit. It's also about sustaining and uplifting the Wyoming sheep and wool industry. "We produce some of the best wool in the U.S," says Hostetler. "My vision is a regional mill and ag program that's very supportive of helping out producers."
###
UW AgNews