BOZEMAN – Sreekala Bajwa, dean of Montana State University's College of Agriculture and director of the Montana Agricultural Experiment Station, received a national award in July from the American Society of Agricultural and Biological Engineers for her excellence as an academic leader.
Bajwa, who took charge of the MSU College of Agriculture in January and holds the title of vice president for agriculture at MSU, was nominated for the James R. and Karen A. Gilley Academic Leadership Award by her former colleagues at North Dakota State University, where she served as chair of the agriculture and biosystems engineering department for nearly seven years.
"The award requires that you be an active and contributing member in the society," said Bajwa, who hasn't missed an ASABE national meeting since she joined the society in 1996. "I was very happy and honored to receive this award."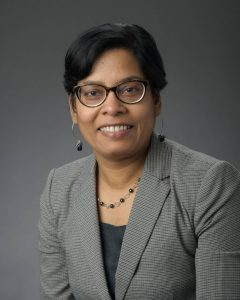 While Bajwa was at NDSU, graduate enrollment in the university's agricultural and biosystems engineering department more than tripled, and grant dollars received by the department's researchers doubled. Bajwa was instrumental in establishing a new undergraduate program in precision agriculture and she proposed NDSU's Center for Digital Agriculture, which was approved earlier this year with the help of a multimillion-dollar U.S. Department of Agriculture grant.
Bajwa said one of her primary goals in North Dakota — which she intends to continue to strive toward at MSU — was to create strong, mutually beneficial relationships with stakeholders in agricultural research and education: faculty, students, commodity boards, farmers, ranchers, industries and government representatives.
"I am a big believer in partnership with the community, and we formed an advisory board for my department at NDSU to really engage those people in various activities," Bajwa said, "whether it was coming and providing a guest lecture, updating curriculum or talking about what their research needs were and collaborating on addressing those needs. We had many major partnerships built during my time at NDSU."
An international organization with more than 8,000 members, ASABE represents educators, researchers and professionals tackling issues from air and water quality to resource management, livestock environment, food engineering and precision agriculture, which is Bajwa's specialty. Bajwa serves on the society's board of trustees and is a member of the Global Engagement Executive Committee, which seeks to address major global challenges such as food, water and energy security, as well as sustainability in the broadest sense.
"We had to evaluate what our role is in addressing these global challenges," Bajwa said. "If we can take our technologies and ways of achieving very high efficiency to other parts of the world, we can make a bigger impact."
In working toward that impact, Bajwa serves on the global conference subcommittee, planning international conferences to address resource security, sustainability and global food challenges. She helped coordinate a global food security conference in South Africa in 2016 and a global water security conference in India in 2018. She is currently leading the preparations for a global energy security conference to be held in Costa Rica in 2021.
Bajwa hopes to continue similar growth and development in Montana. In her first several months at MSU, she has met and interacted with stakeholders across the state, creating the relationships and partnerships that she so prioritizes. Under Bajwa's leadership, the College of Agriculture will play a key role in MSU's new strategic plan, Choosing Promise, which includes a grand challenge surrounding food and fuel security, precision agriculture and energy production.
"It takes time. You can't jump in and start doing things without examining what the realities are and understanding the challenges and opportunities in the agriculture sector where those partnerships will make the most impact," she said. "When I meet with farmers or commodity boards or other stakeholders, I'm asking that same question: What are your challenges, and where do you see the most opportunity where the College of Agriculture and MAES can make a difference? That's my interest. I want to see where we can make a difference in this state."