Today's ranch managers must know how to manage employees, interpret policy and effectively comment on an environmental impact statement as much as they know how to select a replacement heifer or design a grazing system.
That's why Montana State University's new Dan Scott Ranch Management Program is holding a series of online seminars over the next year. The seminar series will provide leadership, personnel management, and natural resource law and policy skills not taught in the required courses of the ranching systems degree.
Seminars will be held monthly on the last Tuesday beginning in August through May (excluding September & December) – for a total of 8 seminars / year. Seminars are open to students, staff, & faculty from all disciplines, ranching professionals, and the community.
The seminars will cover a variety of important topics for ranchers. Below is the planned list of topics for the series.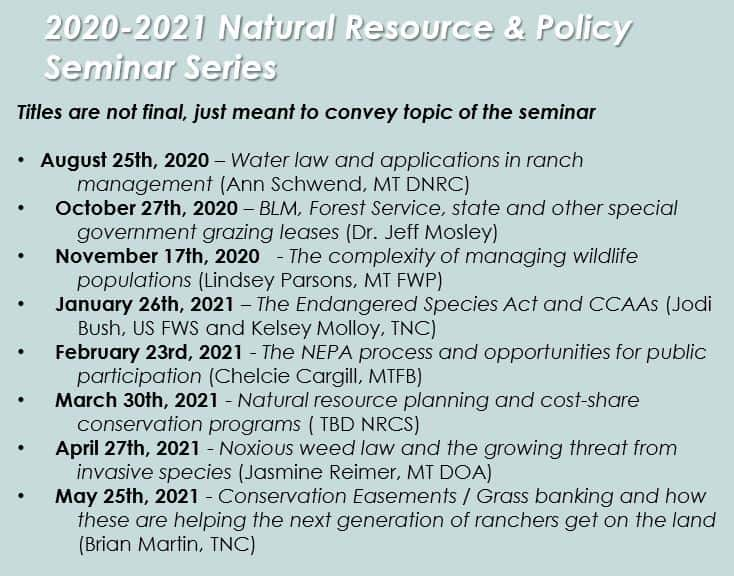 Also, this fall on September 22nd and 23rd, the Dan Scott Ranch Management Program will hold it's first annual Production Symposium. The event will be at the GranTree Inn in Bozeman and will feature ag consultants Burke Teichert and Bob Milligan.
The symposium is titled "Calving Season and Ranch Workforce – Managing Both Successfully." At the meeting producers will hear about how to match the calving season to their unique situation. There will also be a tour of MSU's Red Bluff Research Ranch, dinner and producer panel on marketing strategies for late spring calves and a full day interactive workshop.
More information can be found here.