Each year, National 4-H Week sees millions of youth, parents, volunteers and alumni come together to celebrate the many positive youth development opportunities offered by 4-H. The theme for this year's National 4-H Week, Opportunity4All, is a campaign that was created by the National 4-H Council to rally support for Cooperative Extension's 4-H program and identify solutions to eliminate the opportunity gap that affects 55 million youth across the United States.
4-H believes that young people, in partnership with adults, can play a key role in creating a more promising and equitable future for youth, families and communities across the country. In 4-H, all members are given equal opportunity to succeed and are equipped with the skills they need to make a difference in the world.
"We believe youth perspectives are so important and a solution to eliminating the opportunity gap, because young people come with new ideas and new ways of seeing the world," explains Jennifer Sirangelo, President and CEO of National 4-H Council. "By encouraging diverse voices and creative actions, 4-H believes that solutions can be found to address the educational, economic and health issues that have created the opportunity gap."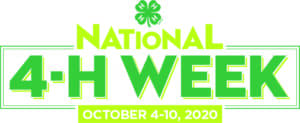 Each weekday during National 4-H Week, South Dakota 4-H will be highlighting the opportunities available to all youth across the state, and is encouraging others to join the celebration by sharing their 4-H stories with friends or on social media, as it applies to each of the assigned themes below:
Monday: #OpportunitytoLearn – What opportunities have you had through 4-H to learn new things?
Tuesday: #OpportunitytoGrow – How has 4-H challenged you to grow?
Wednesday: #OpportunitytoServe – What ways have you had opportunities to serve your community in 4-H?
Thursday: #OpportunitytoLead – 4-H inspires true leaders – when have you had an opportunity to lead?
Friday: #OpportunitytoSucceed – How have you had opportunities to succeed through 4-H?
Learn more about 4-H in Montana, Wyoming, and North Dakota.
###
SDSU Extension