The Montana Winter Fair was excited to announce the addition of a new youth competition for 2020. High school students from across Montana were encouraged to showcase their communication skills through the Ag Ambassador competition, held Saturday January 25th at the fairgrounds in Lewistown, MT.
The purpose of the Ag Ambassador event is to tell the story of agriculture through a variety of mediums, and help students sharpen their communication, marketing, and public speaking skills. Each year, the competition will focus on a central idea, and students will create their communication materials around that topic. For 2020, the focus was The Economic Impact of Ag in Your Community.
Students wrote a newspaper article (500-800 words); recorded a radio spot (25-30 seconds); created 3 social media posts (each 25 words or less with a picture or video included) and a brief marketing plan; a mock TV interview; a prepared speech (7-12 minutes); and a visual display that includes their article, social media posts/marketing plan, and other photos. Topics ranged from the economics of ag in the counties surrounding the APR, to the economic aid provided the Western MT Stockgrower's Association, to the way agriculture is the heart of communities like Winnett.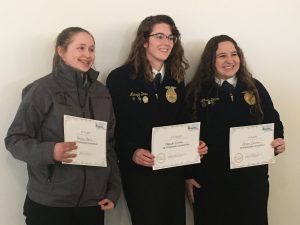 The winners of this year's competition were:
1st Place Winner, Receiving $1,000 award – Allison Denton of Lewistown (furthest right in photo)
2nd Place Winner, Receiving $500 award – Hayley Stahl of Winnett (furthest left in photo)
3rd Place Winner, Receiving $250 award – Makayla Dines of Geraldine (middle in photo)
4th Place – Claire Standley of Missoula
5th Place – Jaden Cox of Gardiner
6th Place – Nickia Harris of Deer Lodge
The competition was a success and many students plan on competing again as well as teachers who plan to bring students next year.
###
MSU Extension, Fergus/Petroleum Counties