As the Montana Legislature gets to work, so are Montana Farmers Union staff and members, with a Legislative Drive-In and lobbying efforts to help family farms and ranches thrive.
"Legislators are debating and reading and trying to understand bills that impact our lives, and it's like drinking water from a fire hose," MFU President Walter Schweitzer said.
"So they rely heavily on groups like ourselves, Farmers Union, to help them make decisions that are going to benefit their local communities, and we need to be able to develop a relationship of trust so that we are the go-to group when legislators see an issue that impacts agriculture or rural Montana," Schweitzer added.
"When [legislators] see that individual who's directly affected by an issue, that really hits home…"
Being involved in the legislative process is as important, if not more so, than voting, said Erik Somerfeld, who sits on MFU's board and has lobbied on the organization's behalf many times, including during the first ever Legislative Drive In held Jan. 3-4.
Being involved can be as simple as sending an email to your legislators saying why you are or are not in favor of a bill, Somerfeld said, encouraging members to take it a step further and make face-to-face contact with legislators.
"When [legislators] see that individual who's directly affected by an issue, that really hits home more than what the lobbyists say, or even those of us who are down there regularly for an organization," he said.
While MFU's Director of Government Affairs Rachel Prevost and other MFU staff lobby in Helena, member voices are crucial to the process. To get involved, reach out to your local ambassador or Prevost at www.montanafarmersunion.com.
Don't hesitate to reach out to your representatives personally, as well.
"Accurate, concise and respectful of time are three things that are good tactics for effective lobbying," Prevost said.
Personalized direct contact is most effective, and members can drop in to see their legislators if they find themselves in Helena.
"Legislators are most likely to make time for conversation when you're there in person, and you can make a real impact and use your voice for agriculture," Prevost said.
"The direct opportunity to talk to them, regardless of the outcome of your priority, it's very much worth the effort. And it's good leadership in general for your community and the family farm industry," she added.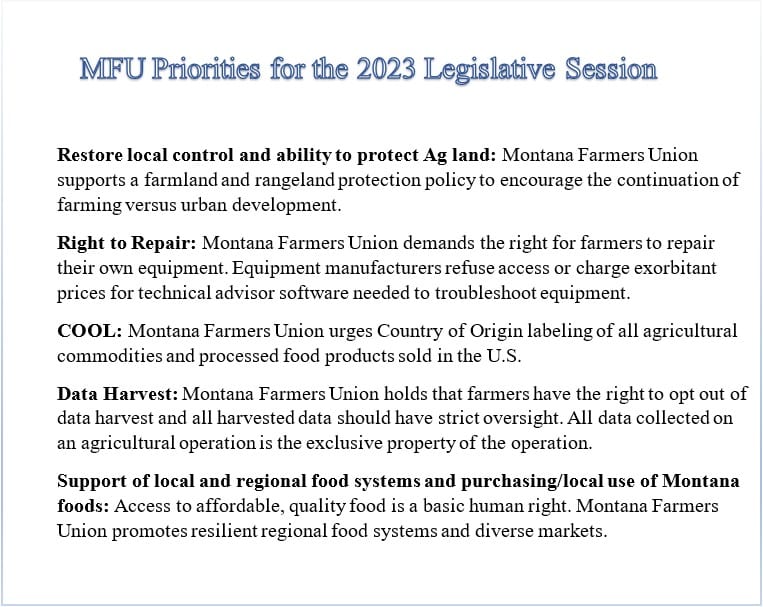 How do I find my legislators?
You can find your legislators at: www.leg.mt.gov/legislator-lookup/ and members of the Senate and House Ag Committees at www.leg.mt.gov/committees/session-committees/.
How do I stay updated?
Stay tuned for weekly legislative updates from Montana Farmers Union via Facebook Live, weekly e-news, and member emails.
Learn more at montanafarmersunion.com.
Brought to you by the Montana Farmer's Union