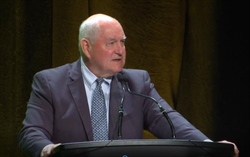 The 2018 Commodity Classic provides farmers an opportunity to advocate for agriculture and also gain knowledge and see innovations in the industry. There is also quite a few newsmakers that attend the event. This year, Secretary of Agriculture Sonny Perdue was one of the keynote speakers and he spoke with producers about multiple issues impacting agriculture. Three key areas in his address include trade, Farm Bill priorities, and the agricultural guest worker program.
The USDA leader said he knows the importance of trade to U.S. agriculture. On the topic of trade, the Secretary said that he is pressing President Donald Trump not to leave the North American Trade Agreement.
"President Trump made his career as a tough negotiator he's strong he's tough, and I have confidence when he says America first," said Perdue. "That we will get a deal that's good for America, American producers, American farmers and all Americans with NAFTA negotiations."
Secretary Purdue also assured producers that strong safety net programs would be a part of the 2018 Farm Bill
"It must help American farmers weather times of economic crisis and stress without distorting markets. I think it all can all agree that it doesn't help prices when producers start planning for the program and not to the market," Perdue said. He also added, "I want to tell you this I don't know of a real farmer who had never rather have a good crop at a fair price and taken a government check."
Making fixes to the guest agricultural worker program is an issue USDA wants to see accomplished as a part of immigration reform.
"The H-2A Visa Programs are cumbersome, convoluted and I know that we could have an easier more effective system. President Trump has indicated to me personally that he understands the need for a legal agricultural workforce," Perdue added. "I'm hopeful we're working again and with the White House as well as Congress to get included agricultural workforce included in a comprehensive immigration bill."
Secretary Perdue also shared his relief with Commodity Classic attendees with the fact that Bill Northey was confirmed by the U.S. Senate this week to be Undersecretary of Agriculture at the USDA. Northey will oversee essential agencies including the Farm Service Agency, the Natural Resources Conservation Service, and the Risk Management Agency. Purdue also strives to make USDA more respectful of farmers and ranchers time by having the department be more customer service oriented across the nation. He plans to improve consumer service by using technology to enhance how producers fill out USDA paperwork and funding programs.