Gentle, German cattle introduced not so long ago are making their mark on herds across the country.
Gelbvieh cattle have only been on the American scene since 1971 but they are one of the oldest German cattle breeds dating back to 1850. According to the American Gelbvieh Association's (AGA) history on the breed, the German's worked hard on genetic selection for the breed after World War II. Bulls from select cows were evaluated for birth weight, calving ease, growth rate, carcass quality conformation, and fertility and milk production daughters. Red Danish cattle genetics were introduced to the breed in the 1960s for better milk production.
The American Gelbvieh Association consists primarily of purebred Gelbvieh and Balancer cattle. Balancer is a registered trademark of the AGA for cattle that are Gelbvieh and Angus derivatives. Balancer cattle must be a minimum 25% to a maximum of 75% Gelbvieh, and registered animals can be black or red. The AGA now boasts 45,000 active registered Gelbvieh, Balancer, and Gelbvieh influenced cows in the U.S. and 1,000 active members. A majority of the registered Gelbvieh and Balancer are across the Midwest but the breed is no stranger to Northern Ag territory.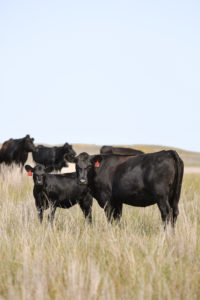 Strengths of the Breed
               Docility
In talking to Gelbvieh producers, docility is one of the first traits mentioned for the breed followed by fertility and maternal qualities.
"I think that Gelbvieh cattle by nature have very desirable and calm dispositions," Tom Strahm, Commercial Marketing Director of AGA explained, "so docility is a very attractive trait. Producers that I visit with appreciate the maternal ability, or maternal superiority; early puberty, fertility, longevity. They're just good calf raisers."
John Carrell raises Gelbvieh and Balancer cattle near Columbus, MT, and is a past president of the AGA. He noted those same traits focusing on fertility and longevity in their operation. John says the heifers don't have problems breeding up and by the time his percentage cattle are three or four years old they've paid for themselves.
               Maternal
The other keys producers admire are the mothering characteristics. Gelbvieh cows produce plenty of milk and give birth to moderate sized calves, which was not the case when they initially came to the country. Tiffany Rives of MTR Cattle Company in Buffalo, WY, says they were originally a tri-purpose breed; beef, milk, and draft.
"That draft really showed. They were a coarser framed, bigger boned, heavier fronted type of cattle," Rives explained. "I think, especially over the last 20 to 30 years, all of the breeders have done a really good job of refining that. They're more refined in their front ends, they moderated the frame size so you don't have that 15, 16, 1700-pound mature cow. Now they're more similar to the Angus, still a little bigger, but a lot of that weight is just mass not the draft type frame."
Carrell also mentioned Gelbvieh's size, saying they were too big for the land producers were running cattle on. Bringing the size down has made them much more appealing to producers across Northern Ag country. As for other maternal qualities, Gelbvieh cows will not leave their calves behind and are protective when they recognize a predator.
Gelbvieh Give a Balance
"The Gelbvieh Association recognized years ago they needed to make some change in different areas, different traits and recognized the importance of cross breeding. That led AGA to be the first breed association to register hybrid cattle," Strahm said. "I think that as a continental breed Gelbvieh definitely offers the most complementarity to the British breeds when it comes to crossbreeding. Combine the best of all the traits and do a lot of things for producers on the maternal side of it, the growth, and have excellent carcass merit."
Rives points out that when you have breeds that are so beneficial to the beef industry and known for maternal traits, why wouldn't you take advantage of it?
"When you blend those two, our Balancers are hard to beat. They're easy fleshing, they're easing calving, they're great mothers, they wean heavy calves, and do great in the feedlot. The two breeds complement each other very well."
Keith Dynneson is a cattle producer and feeder near Sidney, MT, who likes the Gelbvieh cross with Angus or Hereford.
"We really like their conversion and we really like the heifers."
Dynneson's keep the heifers as replacements on their ranch, referencing their fertility, milk, and docility. They also keep the steers, background them and sell in the spring. Dynneson says the Gelbvieh, Balancer steers feed right with Angus. After backgrounding, the steers are sold at just over 1000 pounds in April and the buyer has them finished by the end of July.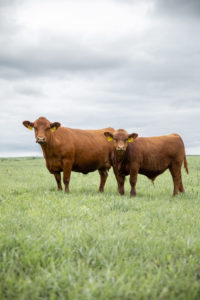 AGA Programs
The American Gelbvieh Association offers different programs to their members and commercial Gelbvieh producers. Strahm said, like other breed associations, they offer the typical seedstock registry, recording data, and providing services for members and their customers.
Paul Jensen from the Duncan Creek Ranch near Lewistown, MT, said the AGA was great to work with when it came to sale time. Jensen can contact the association with a date they would be selling calves and AGA sends a notice to feedlots looking for Gelbvieh and Balancer cattle.
One of the main programs offered is the Balancer Edge, in cooperation with IMI Global. The producer qualifications are that 75% of the bulls on commercial operation need to be registered Gelbvieh and Balancer. Strahm says this allows producers to keep calves that may have been sired by other bulls. The producer submits calving records and supporting documentation to IMI Global for source and age verification which then allows for participation in other programs.
The American Gelbvieh Association is celebrating 50 years of the continental breed coming to America. Compared to other breeds, that's a pretty short time and there is still time of the association to grow. In those 50 years producers have been able to hone in on what they want and make the breed theirs. Smaller body frames, calm demeanor, fertility, milk, and longevity which all help in a purebred operation and they put on the pounds on a commercial ranch. Gelbvieh and Balancer producers say, "Just look at the cattle. They are a complete breed."
###
Leif Bakken – Northern Ag Network – 2020
Photos courtesy: American Gelbvieh Association