BAKER, MT — The participants of the Montana High School Rodeo Finals, hosted in Baker, MT, may never forget this year.  During the final round of calf roping, the rodeo announcer stopped the rodeo and told everyone to get into the storm shelter under the grandstand immediately.  A funnel cloud was forming over the fairgrounds.  Shortly after, a tornado touched down behind the rodeo grounds and hit the east side of Baker by the lake around 7 PM.
KXNews reported that Fallon County Commissioner, Steve Baldwin, confirmed two tornadoes touched down in the area of Baker on Saturday night.  At least 10 structures were damaged and two were completely destroyed.  Baldwin said some residents were taken to the hospital but everyone is accounted for and no one was critically hurt. No reports of injuries from any of the rodeo contestants, their families and animals.
Pictures are being posted all over social media of the damage caused by the tornado to the town of Baker and our thoughts and prayers go out to the families affected by this tornado.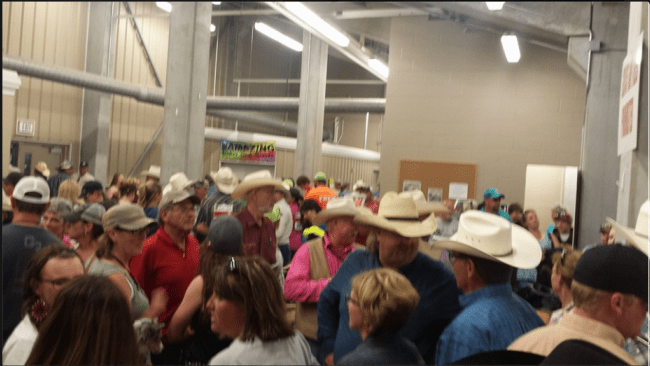 Montana High School Rodeo Finals contestants and families waiting out the tornado before the electricity went out.  Photo by Suanne Stenger
Northern Ag Network