WASHINGTON (March 27, 2017) – President Trump today signed a congressional resolution directing the Bureau of Land Management to repeal their Planning 2.0 Rule.  Ethan Lane, executive director of PLC and NCBA federal lands, applauded the action and called it a significant victory for western ranchers.
"BLM's Planning 2.0 Rule would have caused a wholesale shift in management focus at BLM by prioritizing 'social and environmental change' over ensuring the multiple use of public lands," said Lane. "When you couple the wholesale shift away from multiple-use with the elimination of stakeholder and local input, the rule was unworkable for western communities. We applaud the action by President Trump and look forward to working with the new Administration to bring together a streamlined planning process that works for livestock ranchers and the western communities that depend on the use of BLM lands."
Wyoming rancher, Sublette County Commissioner and NCBA and PLC member Joel Bousman was also  at the White House for the signing. During the course of the event, Bousman showed President Trump his Resistol Black Gold Cowboy. President Trump then asked Bousman if he could keep the hat. Bousman agreed! President Trump mentioned that "he has never had a cowboy hat like this before." Sen. John Barrasso caught the monment and posted the picture to his Twitter account.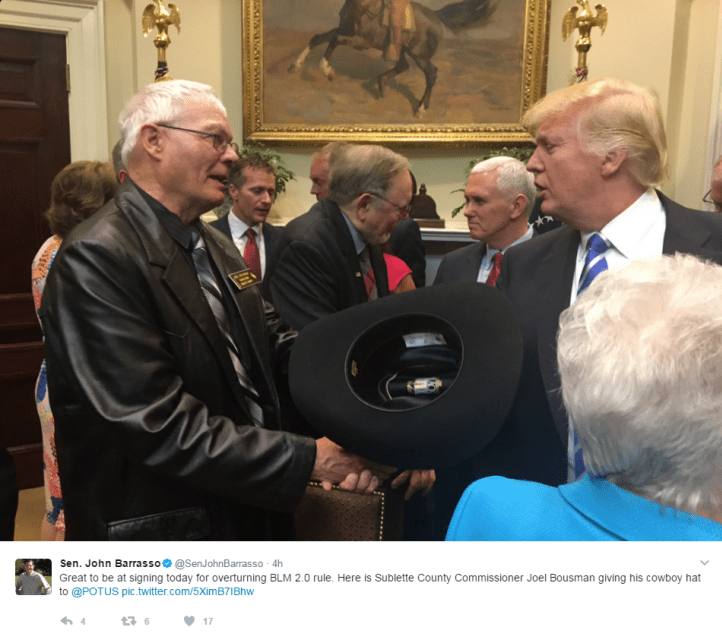 Watch the President sign the resolution.
Click Here to watch the PLC's Ethan Lane explaining to Lane Nordlund's exactly why BLM 2.0 was so unworkable for ranching communities in the west:
·         Completely changing the way BLM does its management planning
·         Eliminating a lot of local input from the process
·         Shortening the Comment Period
·         Eliminating the requirement that the BLM include Economic Impact analysis early in the process
·         Deprioritizing the role of State BM Directors in that process
###
The National Cattlemen's Beef Association (NCBA) has represented America's cattle producers since 1898, preserving the heritage and strength of the industry through education and public policy.  As the largest association of cattle producers, NCBA works to create new markets and increase demand for beef.  Efforts are made possible through membership contributions. To join, contact NCBA at 1-866-BEEF-USA or membership@beef.org.
PLC has represented livestock ranchers who use public lands since 1968, preserving the natural resources and unique heritage of the West. Ranchers who utilize public lands own nearly 120 million acres of the most productive private land and manage vast areas of public land, accounting for critical wildlife habitat and the nation's natural resources. PLC works to maintain a stable business environment in which livestock producers can conserve the West and feed the nation and world.
Photo's flickr, @SenJohnBarrasso