Billings, Mont.– The Montana Agri Trade Exposition, also known as the MATE Show, is a long-standing tradition for Montana agriculturalists produced by the NILE. This year the MATE Show looks forward to an honored guest spending time touring the MATE Show and visiting with its guests and vendors.
Under Secretary of Agriculture for Marketing and Regulatory Programs, Gregory Ibach, confirmed that he will be spending Saturday, February 22nd, enjoying the MATE Show and participating in the Cattle Market Power Hour as part of the Winter Thaw, Saturday evening. The inaugural event is being put on by the U.S. Cattlemen's Association and Montana Farmers Union at the Northern Hotel and Public Auction Yards.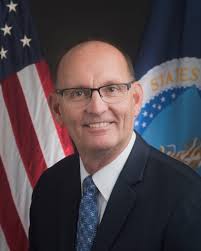 Under Secretary Ibach looks forward to the opportunity to discuss USDA's vision for animal disease traceability and hear directly from Montana ranchers as USDA continues its efforts to enhance both the effectiveness and producer acceptance of the program. Mr. Ibach anticipates a candid discussion with producers about the Beef Checkoff Program and the importance of USDA's prominent oversight role in ensuring the program's continued success. Ibach is also overseeing the investigation in cattle markets after the Tyson Foods fire in Holcomb, KS, which has sparked discussion over beef packing margins as a result of that fire.
Hailing from the small town of Sumner, Nebraska, Under Secretary Ibach is a 5th generation farmer/rancher and the family operation is currently operating under the leadership of one of Ibach's three children. From a row crop and cow calf operation, Mr. Ibach provides insight and prospective to his role as Under Secretary.
NILE General Manager, Jennifer Boka, worked with Under Secretary Ibach in the past. "I had the pleasure of assisting the Ibach family on a beef cattle artificial insemination project. Knowing he is now in a leadership role, guiding federal programs offers a great deal of comfort as is his long-standing dedication to the industry. It will be an honor to show him the MATE Show and introduce him to Billings."
###
The MATE Show/ NILE
Northern Ag Network