After a few years of high grasshopper populations many farmers and ranchers are eager to start spraying this spring. However, MSU Extension reminds producers that, vigilant scouting is important during grasshopper outbreaks as pesticides applied too early or too late are likely to be ineffective. Control measures should not be applied until the grasshoppers have hatched and their numbers can be estimated.
The grasshopper outlook for 2022 looks troubling for much Montana, with the USDA Animal and Plant Health Inspection Service (APHIS), warning that the there may only be slightly less grasshoppers compared to last year.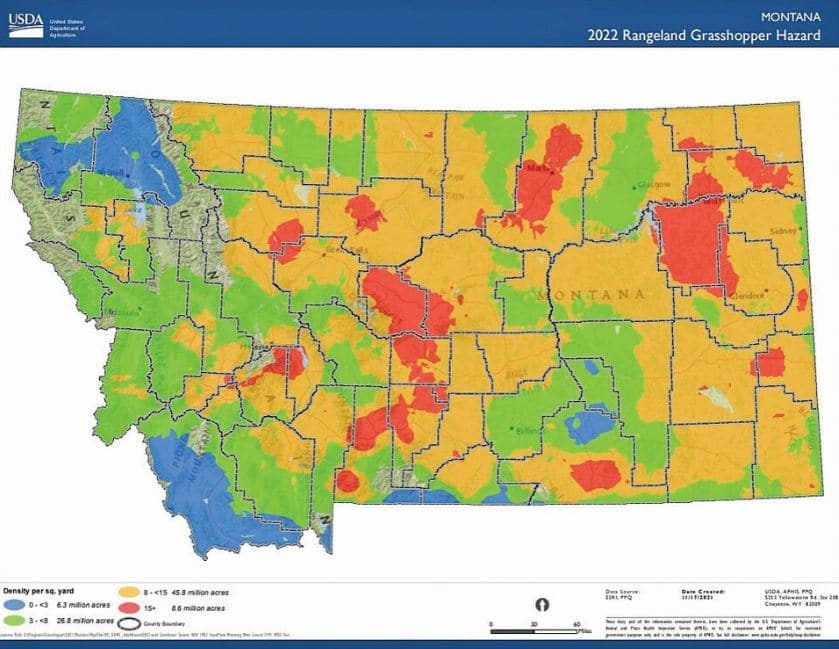 The Rangeland Grasshopper outlook is developed through surveys of adult grasshoppers in the fall by APHIS, and 45.8 million acres in Montana are forecasted to experience 8-15 grasshoppers per square yard. 8.6 million acres are projected to have more than 15 grasshoppers per square yard, with 15 grasshoppers per square yard being the economic threshold.
There are various grasshopper control options for producers, but scouting before making any application decisions is important.
Egg hatch can begin during May and can continue through the summer, but timing depends on the species of grasshopper and the weather. David Branson (USDA – ARS Sidney) suggests the grasshopper hatch this year could be delayed by a week or two due to the cool spring weather (unless the upcoming weather becomes warmer than average).
For rangeland grasshopper control, Gary Adams (USDA – APHIS Billings) indicates that optimal timing coincides with the 2nd and 3rd instar stages. Typically, rangeland treatment in Montana occurs during the 2nd to 3rd week of June but could be delayed this year. Specific timing depends on weather and is based on scouting and staging the grasshopper population.
For grasshopper control in crops, I do not recommend spraying before most of the eggs have hatched and the pest numbers can be counted. Sprays applied before egg hatch will not have sufficient residual activity. Juvenile and adult grasshoppers can migrate into crops from surrounding grassland, regular scouting is advised through the summer.
Treatment thresholds are based on the number of grasshoppers per square yard. The square foot method of surveying grasshoppers: The number of grasshoppers in a one square foot area is estimated visually and randomly repeated 18 times while walking a transect. The total number of grasshoppers is tallied and divided by two to give the number per square yard. Alternatively, four 180-degree sweeps with a 15-inch diameter sweep net is considered equivalent to the number of adult (or nymph) grasshoppers per square yard (NDSU Extension).
For more information on scouting methods, thresholds and insecticides in rangeland and crops, refer to the High Plains IPM Guide:
Alfalfa: https://wiki.bugwood.org/HPIPM:Grasshoppers_and_Crickets
Rangeland: https://wiki.bugwood.org/HPIPM:Range_Pasture_Grasshoppers
Small Grains: https://wiki.bugwood.org/HPIPM:Grasshoppers_SG
###
MSU Extension
Photo: Rod Lawrence