There were more than 180 students, volunteers, and instructors in attendance for the 46th annual Montana Range Days, which was held in Toole County from June 19th-21st. Participants attended outdoor workshops and area tours with natural resource professionals to learn about plant identification, soil science, ecology, and resource management.

Attendees also had the opportunity to showcase their rangeland knowledge through competition, and Cindy Power, member of the Wheatland FFA Chapter, took home the trophy for Top Rangehand. To earn this award, a student between the ages of 15-19 must achieve the highest combined score in four areas: an illustrated talk about a range-related topic, a visual educational display, a pressed-plant collection, and the field-based skills competition.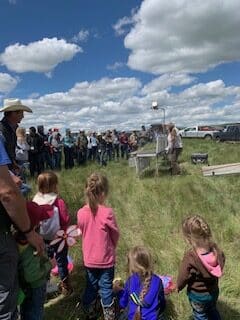 Other awards from the event included Gardiner FFA's Badger Hoppe (Top Greenhand – youth age 14), Havre's Willa Nagel (1st Place Adult division), Stevensville's Adelaide Meyer (1st Place Wrangler – youth ages 12-13), and Big Timber's Abigail Selensky (1st Place Superstarter – youth ages 9-11).

The purpose of Montana Range Days is to educate youth and adults about the state's rangeland resources through hands-on learning. The event is open to participants from age 4 to adult, and both beginners and professionals are encouraged to attend.
To highlight the diversity of Montana's landscape, the event rotates to a new location every two years. The 2024 Montana Range Days will be held in Miles City from June 24th-26th.
The Montana Range Days steering committee would like to thank the community members in Toole County and the surrounding areas who have given their time, talents, and resources to make this event possible during the last two years. For more information about Montana Range Days, visit montanarangedays.org.
###
Montana Range Days