The meat packing industry has been the talk of the town for years. Now a global pandemic has set the broth to boil over. Not only do producers and consumers want change in the "Big Four" but more is being done in communities in Northern Ag country to make a change. In the last several weeks, multiple local meat processors have changed hands and many producers are wondering where they can get an animal processed.
One custom exempt processor that changed hands was C&K Meats, formerly owned and operated by Curt and Karla Gambill, in Forsyth, MT. The processing company is now called Cowboy Meat Company and is run by Charlie Hollenbeck. Hollenbeck recently acquired the facility and said they plan to continue the custom operation and the paperwork is in to be state inspected.
"We do want to keep want to keep a consistent custom schedule to service all the ranchers," Hollenbeck said. "One of the big things in our mission statement that we said coming into this is we wanted a place where all farmers and ranchers could market their cattle effectively and service their local customer base. We think it's a big tragedy that we're shipping millions and millions of pounds of beef out of the state of Montana and then we're shipping in millions and millions of pounds of beef. We want to service the local markets as best as we can."
Just down the road in Miles City, the USDA inspected Quality Meats plant is under new management as well. Shane Flowers, owner of Ranch House Meat Company, bought the business in early July. Flowers, whose main operation is out of Billings, said they plan on using Quality Meats as the main slaughter area and the Billings facility in the final processing. Ranch House Meat Company has dropped all custom processing to focus on bringing the Billings plant up to USDA standards and begin providing product for state and interstate consumers.
One other packer/processor change in Eastern Montana was Powder River Pack in Terry. The Kortum Family bought the Powder River Meat Company from the Choat Family this June and hope to be fully operational by the end of July/beginning of August. Starting off in the new venture, Powder River Pack will be offering custom processing but hope to eventually sell retail meat. They will offer processing of beef, hogs, lambs, and wild game in the fall.
The family says Powder River Pack's main goal is to provide a local, quality service for people to get their meat butchered and processed and they hope to expand and provide those services regionally once established.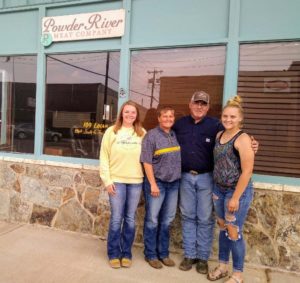 Above: The Kordum Family recently purchased Powder River Meat Company. They plan on opening soon under the new name of Powder River Pack.
There does seem to be considerably more interest in local meat processing, both on the part of livestock producers and consumers. After many people found a shortage of meat at grocery stores this spring, demand has surged for local meat. For ranchers, whether they sell direct to consumers or keep meat for personal use, finding a plant that has time to process animal is a challenge. Many local plants are fully booked into early 2021.
Last month, the State of Montana announced their Montana Meat Processing Infrastructure Grants, funded through the CARES Act, to aid small and medium-sized meat processors. With a maximum award of $150,000 the grants are intended to boost process and storage capacity for meat processors. So we may yet see more local packing plants starting up.
###
Northern Ag Network – 2020