The Wyoming Livestock Board will hear a request this Thursday from Dr. Jim Logan, the state's lead veterinarian, to consider repealing the Brucellosis Area of Concern.
The particular area in the cross-hairs lies upon the western slope of the Bighorn Mountains where the Wyoming Game and Fish Department (WGFD) has conducted intensive surveillance since 2012. That year, two sero-positive elk (elk that were exposed to brucellosis) were discovered followed by an additional nine head between 2013 and 2016. Since then, the WGFD has not found any sero-positive elk in the area.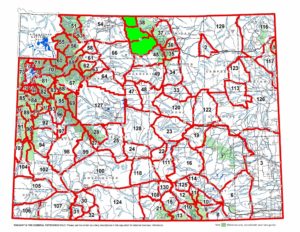 Above: WGFD Elk Hunt Areas. Green highlights area of concern.
Also adding to the State Veterinarian's decision was testing over 30,000 head of cattle in eight years. Dr. Logan says along with saving the state some money, the decision could help save those producers in the affected area the hassle of needing to test cattle.
Brucellosis causes infection in a variety of mammals, including elk, bison, and cattle. Although both sexes can contract the disease, transmission of brucellosis occurs by means of pregnant females when susceptible animals contact and ingest fetal fluids. Abortion is the characteristic sign of acute brucellosis, and there is no feasible treatment or cure for the disease.
The Jackson bison and elk herds, which are located in and around Yellowstone National Park, are chronically infected with the disease, forcing a large portion of northwest Wyoming and touching states to be listed under a Designated Surveillance Area (DSA).
Dr. Logan says he has no plans to recommend changes to the boundary areas of the DSA.
####
Northern Ag Network – 2020