ANCW Region 5 Meeting-Rocky Mountain Rendezvous
Join us for "Rocky Mountain Rendezvous" ANCW Region 5 Meeting in Denver!
Come hang with your heifers at the 2023 ANCW Region 5 meeting being held in Denver, Colo., April 20-22. Click the link below for more details!
Click here for more information!
Join American National CattleWomen for the Region V Meeting
"Rocky Mountain Rendezvous"
April 20-22 in Denver, Colo.
This exciting conference will encompass topics revolving around current issues in agriculture, beef nutrition, advocating for agriculture, and networking with other women in agriculture! While this event is hosted by ANCW and the state host, Colorado CattleWomen, this event is open to any women involved and interested in agriculture and we invite you to attend! 
Save the date now, registration information to come.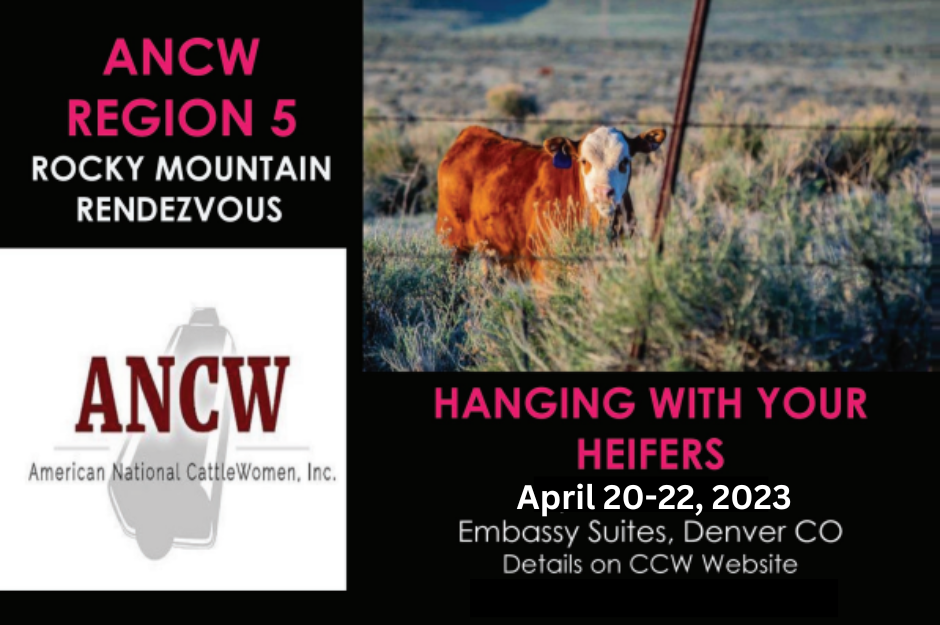 Event Details
Hotel
Embassy Suites Denver Central Park 
4444 N. Havana Street, Denver, CO 80239
Hotel Phone Number: 303-375-0400 Direct Line: 720-587-5086
Hot Breakfast included with stay
Start making room reservations at any time!
Tentative Schedule
Thursday, April 20 – 6:30pm
Arrive and enjoy an evening get together with heavy appetizers, social hour, and entertainment
Friday, April 21
Join us for a full day of encouraging speakers, delicious food and a special tour followed by dinner with Dr. Temple Grandin's address.
Saturday, April 22 – ending with lunch
Help us wrap up the Rocky Mountain Rendezvous with the Region V business meeting and a farewell luncheon.
Schedule Highlights
Hear from:
Dr. Temple Grandin, a CSU professor of animal sciences and renowned animal behaviorist and autism activist.
Dr. Jennifer Martin, Meat Specialist and Assistant Professor at the College of Agricultural Sciences in Animal Sciences whose research interests lie in a systems-based approach to meat safety and quality. She intends to explore the complex, interwoven, and ever-evolving pathways that influence the production of safe, sustainable, and high-quality meat.
ANCW leaders
and More!
Registration: $200
Mail registration checks to:
Kathleen Shoemaker
CCW Treasurer
1040 Lone Tree Circle
Canon City, CO 81212
(include on the memo line: "Region V attendance")
More registration information to come!
Enjoy Denver!
We are hosting this meeting in a central location for not only Region V cattlewomen to come, but especially for Colorado CattleWomen members!
CattleWomen would especially love the Roper Warehouse Sale going on the same time as the meeting:
Friday, April 21st / 7am – 7pm
Saturday, April 22nd / 8am – 4pm
www.roperwarehousesale.com