Redland Angus – Range Calved – Range Raised Fall Sale
Redland Angus… RANGE CALVED-RANGE RAISED genetics.  Join us for our upcoming sale, November 21, 2020 MST
Buffalo Livestock Auction – Buffalo, Wyoming.
187 Coming 2-Year-Old Range Bulls and 80 Range Raised Bred Females.
At Redland Angus it's all about RANGE CALVED, RANGE RASIED genetics.  Coming from a Range Hardened cowherd that is run in a least cost Range Environment to deliver genetics that are designed to make your ranch more profitable!
Broadcast Live on Northern Livestock Video!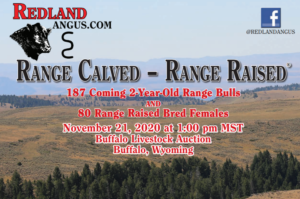 https://redlandangus.com/wp-content/uploads/2020/10/Redland-November-2020-Catalog.pdf