Sheep Shearing School – Craig, CO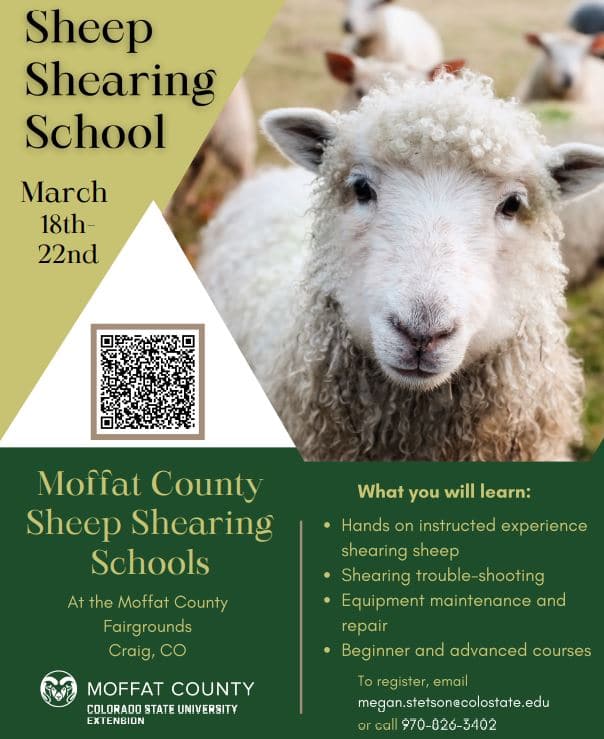 The Beginner Sheep Shearing School will run from March 18th-20th and provide hands-on, instructed experience in shearing sheep using both hand-held electric shearers and professional shearing machines. The instructors will also cover shearing trouble-shooting and the basics of equipment overview. This 3-day school is geared for both beginner and experienced shearers and will be capped at 20 participants to ensure the most beneficial experience.
The Advanced Sheep Shearing School will run from March 21st-22nd and focus heavily on equipment maintenance and repair. To move onto the Advanced School shearers must be able to shear on their own with no help from the instructors. This 2-day school will be capped at 10 participants.
We are excited to welcome back last year's instructors Doug Rathke and Anthony Steinfeld. Who have a combined 70+ years of shearing experience in the United States and Australia, and have worked together as a team to educate THOUSANDS of shearers.
Shearing equipment will be provided and available for use, if participants have their own equipment they are encouraged to bring it.
The Beginner School cost is $250, bundle Beginner and Advanced School is $375, Advanced School is $250. This registration fee covers all instruction, livestock, and equipment expenses needed for the class; daily lunches and refreshments are also included. Participants are responsible for all of their own travel, lodging, and additional meal expenses.
Thank you to the Colorado Wool Growers Association for sponsoring this event! Your continued support is greatly appreciated.
Questions? Email megan.stetson@colostate.edu or call the Moffat County Extension Office: (970) 826-3402.