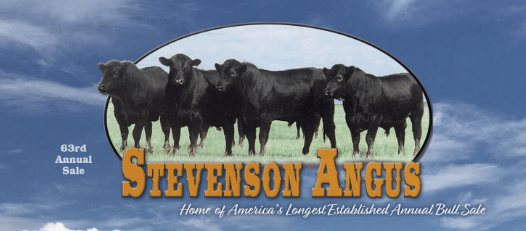 Stevenson Angus Annual Sale
Stevenson Angus's Annual Production Sale is November 28th, 2023 at 12:00 PM in Hobson, MT at the ranch!
600+ Angus sell, 160 two year old bulls, 190 registered females, 120 yearling bulls and 150 commercial bred heifers.
Sale Day Phone: 406-423-7500
Location: 350 JRS Lane, 1.5 miles south of Hobson
Sale Order: registered bred heifers lots 401-460, registered cows lots 501-626, older bulls lots 1-158, young bulls lots 201-320, commercial heifers lots A-E.
Bid online at superiorlivestock.com, CCi Live or Frontier Live Sale! For more click here
Contacts: Keith & Roberts 406-423-5450, Darrel & Sara 406-350-5443, Bob & Robin 406-423-5365, Jake & Deanna 406-423-5265