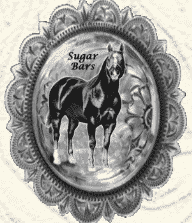 Sugar Bars Legacy Horse Sale
The 20th Anniversary Sugar Bars Legacy Sale is Sunday Sept 18th in Sheridan Wyoming.
Preview at 10AM, Sale Time 1 PM starting with WILD CARD Foal Selection
Selling over 90 head with lots of color. 30 head of saddle horses ready for the arena, ranch, family or trail; youth horses also sell. Something for everyone and every skill level!
Weanlings and yearlings, descendants of the Legendary Sugar Bars sell, all are Futurity eligible. Futurity classes start at 12 noon Saturday the 17th. Sugar Bars Broodmares available.