(Kansas City, MO) – At the National Association of Farm Broadcasting (NAFB) convention the Montana Department of Agriculture's Beyond the Weather campaign won the prize for the Best Radio Commercial Series that aired on NAFB stations and networks in 2022. Amelia Siroky and Courtney Kibblewhite of Northern Ag Network who developed the campaign and accepted the award with tears and excitement.
The Plambeck Award is named in honor of Past NAFB President and Hall of Fame Inductee Herb Plambeck and recognizes the best single and series radio commercials. The award is judged by a panel of producers, agency representatives and former NAFB Presidents.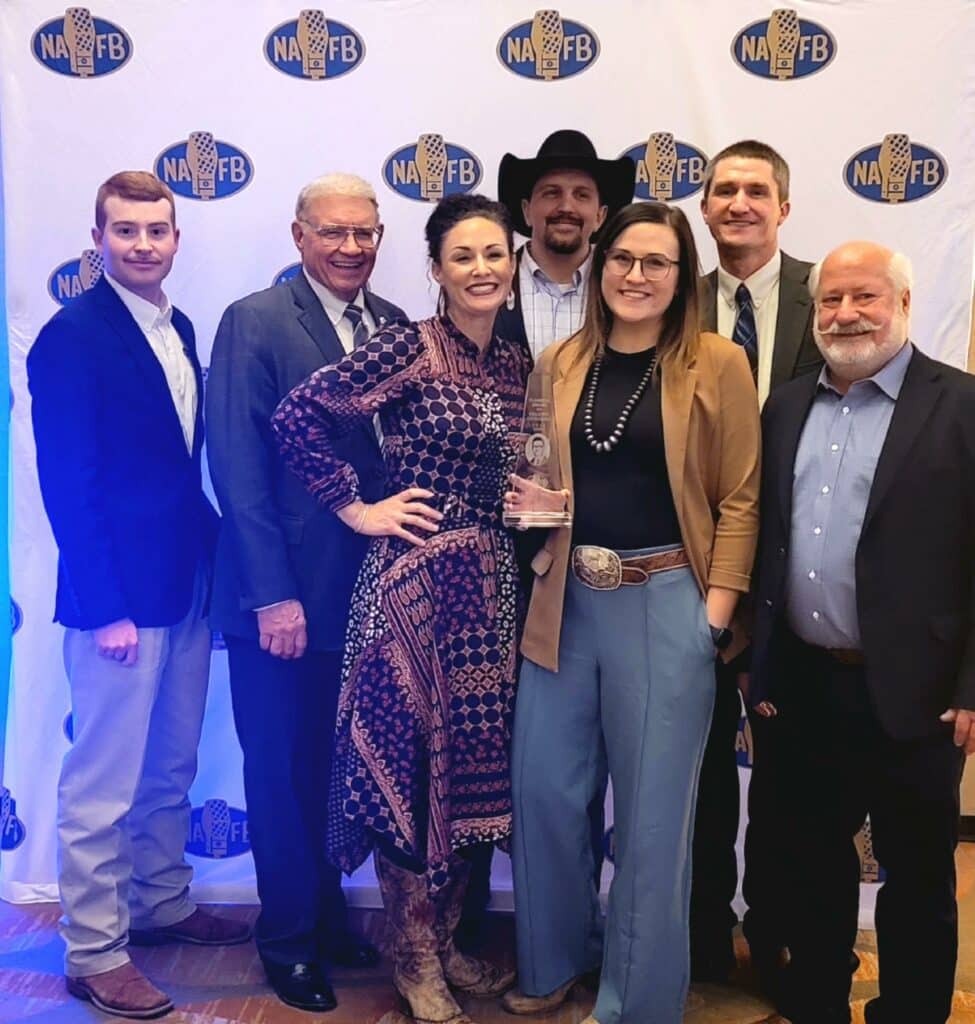 The Beyond the Weather campaign began in early 2022 with a radio ad voiced by Northern Ag Network, President Taylor Brown,
"Seems like the weather is always top of mind. First thing we ask about when we get together… and often our last prayer at night. But, do you ever get beyond the weather with your neighbor…ask how they're REALLY doing? We can't control the weather, but we can help each other weather the storm. Mental wellness isn't something we're used to talkin' about…but it's more important than any forecast."
Other messages included words from Montana Department of Agriculture's Director, Christy Clark encouraging family members to notice changes in their loved ones and encourage them to reach out. State Senator Walt Sales and his daughter and son-in-law Melissa & Travis Stuber who farm in Gallatin Valley also shared their personal experiences in the television and social media part of the campaign.
"There is nothing more important for us to do as farm broadcasters than normalize conversation around mental health," Kibblewhite remarked in her acceptance speech.
"We've got to use all of the tools we can to keep our farms and ranchers profitable and a clear and healthy mind is one of those tools. I challenge all of you as media to get Beyond the Weather in your interviews and conversations and figure out what is really going on. because we simply have to make a difference."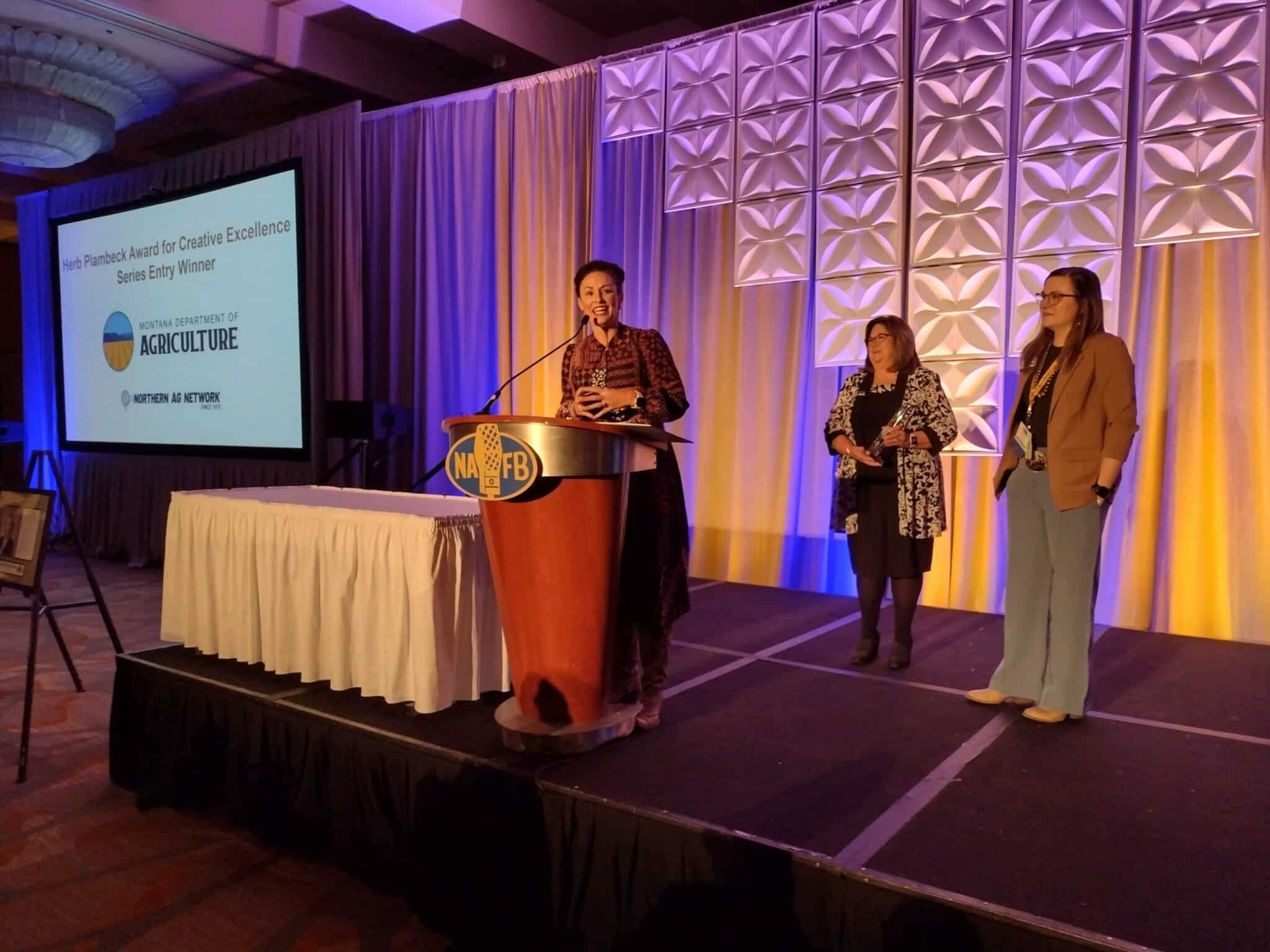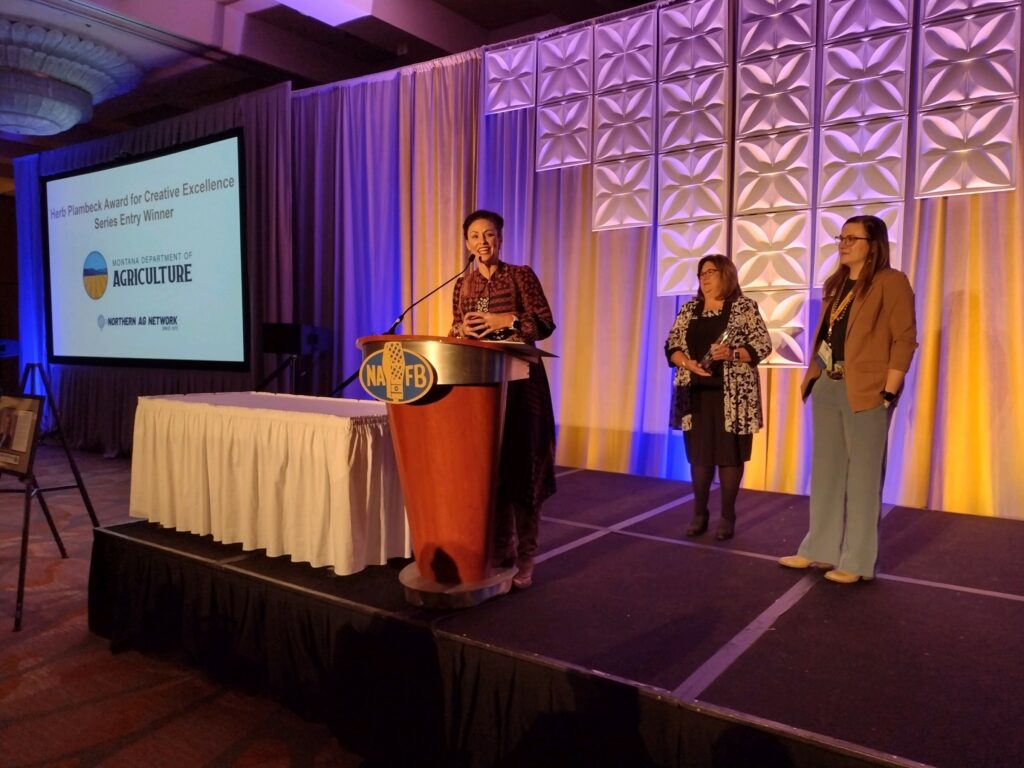 Amelia Siroky who led the creative effort in developing the ads emphasized the significance in the state's involvement in this effort. "It's incredible for the Montana Department of Agriculture to recognize the need to support the mental health challenges that exist for Farmers and Ranchers. From developing a free counseling program with Frontier Psychiatry, to offering grants for Mental Health speakers, we are grateful for the state taking action here to support our families and neighbors."
While this creative award was given in recognition for work done in 2022, Courtney Kibblewhite commented that this isn't about a single campaign. "This work is really about creating a movement. It may take generations to change the mental health stigma. We are so proud of our western culture and the grit in our blood. We have to create the narrative for our next generation that we are not only tough enough to endure…through drought and blizzards and bad markets…but we are also tough enough to ask for help."
Northern Ag Network is a family owned and operated radio and television network in Montana, Wyoming and the Western Dakotas. They would like to thank their entire staff, many community partners including Montana State University Extension and Frontier Psychiatry, for supporting this movement as well as AMB West and the Arthur Blank Family Foundation for supporting this important work.
If you'd like to get involved to support this effort either to share a personal story or to financially support the distribution of these messages, please reach out to Courtney Kibblewhite or Amelia Siroky.